Attention bakers: stop wasting your hard-earned money on tasteless, expensive vanilla extract! I'm here to save you money and show you that with about 5 minutes of active time, you can make incredibly delicious and fragrant homemade vanilla extract that will cost about 40% less than the store-bought crap stuff!
All you bakers out there probably cringe every month (or more often) when stocking up on vanilla extract – because the bottle is SO TINY yet the price tag is SO BIG! What is up with that?! It is so painful and I shudder every time I buy it! Well, never cringe (for that reason) anymore. Stay with me while I take you through some culinary math!
Store Bought Vanilla Extract: $9 for a 4 ounce bottle = $2.25 per ounce = sad face 🙁
Home Made Vanilla Extract: $20 for 40 Vanilla Beans + $15 for the cheapest vodka you can find (750 mL) makes 25 ounces of vanilla extract = $1.40 an ounce = almost a 40% savings = happy face 🙂
OK enough with the math – the point is you're saving a lot and you have the pleasure of knowing you're using something homemade! If you get to the dollar store, pick up a some little bottles and make the extract into holiday gifts (yes, I said the h-word!). If you start now, they'll be ready by mid November or so, just in time for the slew of holiday parties. Combine a small bottle with some cookie mix for a cute gift basket, or bring along a large bottle as a hostess gift!
This is barely a recipe… and at the end you get some incredibly delicious vanilla extract – store bought vanilla doesn't even come close to the flavor and deliciousness of the homemade stuff – trust me! The longer you let the vanilla steep, the deeper the flavor will be (and more beautiful the color!). Here's mine, 5 weeks (and a new apartment) later – you can see the dark, caramel-y color.
Some like to play around with the type of alcohol you add – try whiskey or bourbon for a flavorful twist! Here are a few of my favorite ways to use the vanilla extract: 1-2-3-4 cake, Orange Olive Oil Cake, Shirini Keshmeshi, and Caramelized Brown Sugar Cookies.

Recipe: Homemade Vanilla Extract
Recipe type:
Baking Ingredients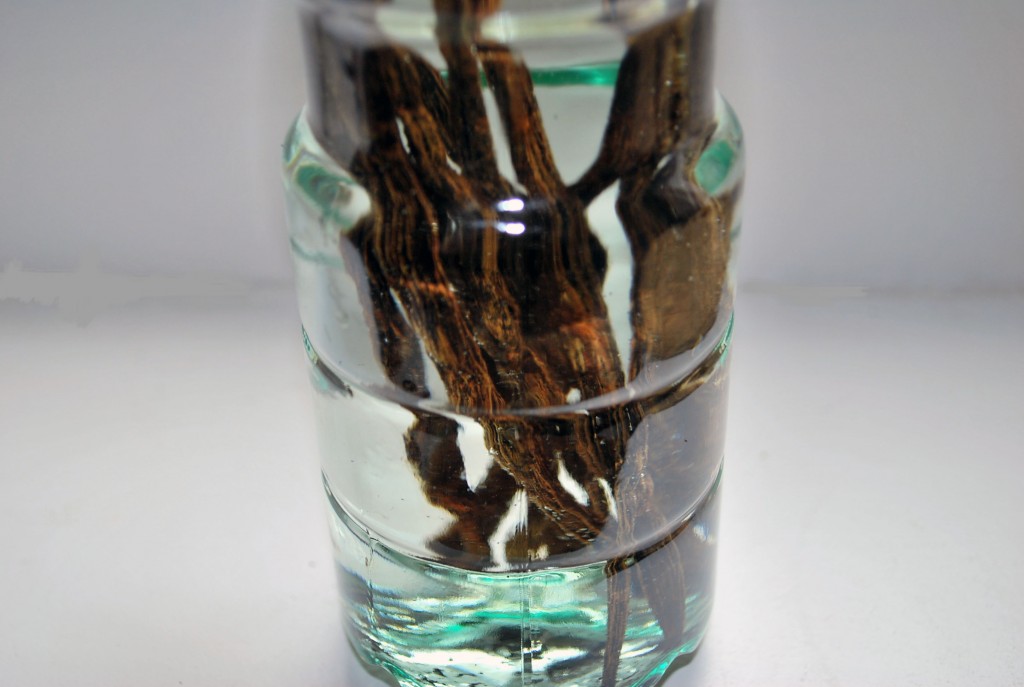 Homemade vanilla extract - low effort, big savings!
Ingredients
1 bottle of vodka *750 mL - use the cheapest vodka you can find
About 30-40 vanilla beans
1 or 2 glass bottles with a rubber stopper (depending on the size of your bottle)... or simply reuse your vodka bottle.
Instructions
Carefully split your vanilla beans with the tip of a sharp knife to expose the oily seeds.
Place your split vanilla pods into the empty bottle(s).
Pour the vodka over until the vanilla beans are covered.
Give the bottle a little shake to make sure everything is nicely co-mingled.
Wait at least 4-6 weeks, shaking occasionally – then enjoy!