These cookies, called Shirini Keshmeshi (which translates from Farsi to 'Sweets with Raisins') are super easy and delicious. Even for a reluctant baker such as myself, they are damn near foolproof and a great cookie to take to a friend's or put out when a somebody stops by for an afternoon visit. In fact, you probably already have all the ingredients in your pantry – my kind of recipe!
For those of you who grew up in Persian families, you are already familiar with these cookies. Thin yet pillowy and speckled with raisins, Shirini Keshmeshi are typically served with tea.
Recipe: Shirini Keshmeshi - Persian Raisin Cookies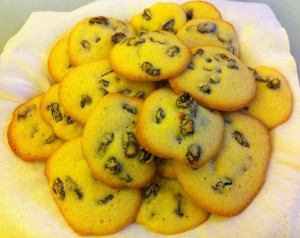 A classic Persian cookie - soft, filled with raisins and scented with rosewater.
Ingredients
1 cup unsalted butter, melted
1 teaspoon vanilla
½ teaspoon golab (rosewater)
1¾ cup sugar
4 eggs
2 cups raisins (try to find regular size raisins, not the jumbo ones if possible)
2⅓ cup all-purpose flour
Instructions
Mix up the butter, rosewater (golab), vanilla and sugar until combined.
Add the eggs, one at a time, and mix until smooth.
Fold in the raisins.
Fold in the flour a bit at a time – this part takes some elbow grease but take your time.
Chill the dough in the fridge for 15 minutes while preheating your oven to 350 F degrees.
Place teaspoon-sized scoops of dough on a cookie sheet lined with wax paper, and make sure to leave plenty of room between. I only put 8 cookies per sheet – resist the urge to scoop bigger, these cookies spread out a LOT.
Bake for 14-16 minutes or until the edges of the cookie are golden brown. Remove from oven and allow to cool before removing from baking sheet.
Serve and enjoy!