These are the easiest cookies I've ever made, and yet the most addictive – a dangerous combination. With a super simple ingredient list, the magic happens when you coat the dough balls in a lot of brown sugar so they caramelize underneath and get this amazing rich crunchy flavor.
Caramelized Brown Sugar Cookies
Prep time:
Cook time:
Total time: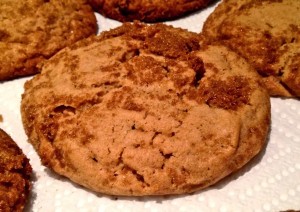 Ingredients
7 ounces of butter, melted
2 cups of light brown sugar
2 cups of all-purpose flour
1 egg
2 teaspoons vanilla
¾ teaspoon salt
1 teaspoon baking powder
½ teaspoon baking soda
Instructions
Preheat the oven to 350 F degrees.
Mix the butter, 1.5 cups of sugar and salt in a bowl. Slowly add the egg and the vanilla, mixing thoroughly.
Add the flour, baking soda and baking powder and mix until smooth.
Fill a small bowl with the remaining brown sugar. Take golf ball sized scoops of the dough, and with your hands form them into a sphere.
Coat the dough balls with a generous amount of brown sugar, then place on a lined baking sheet.
Put the cookies in the oven and bake until the tops are cracked and the edges are caramel colored (about 10-12 minutes). For best results rotate the cookies half way through baking. Cool and enjoy!