In a season when gluttony prevails, there is nothing like a light and citrusy dessert to cut through all the richness. This dessert is actually inspired by a similar one I had at L'Artusi a year ago and it was surprisingly delicious end to a large meal. And while the idea of an olive oil based dessert may seem strange, in reality it gives a delicate flavor perfectly suited to a citrus or herb pairing (think sage or basil).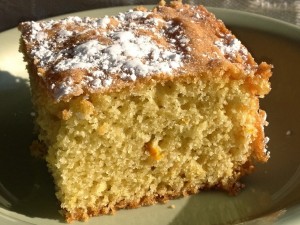 Orange Olive Oil Cake
Recipe: Orange Olive Oil Cake
Prep time:
Cook time:
Total time: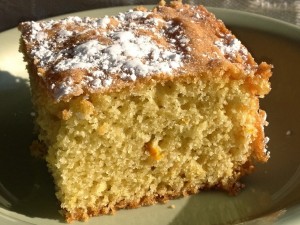 Light and citrusy orange olive oil cake. An Italian classic!
Ingredients
1 orange, zested and juiced
1¼ cup of all purpose flour
¾ cup of sugar
2 eggs
⅓ cup of extra virgin olive oil
1 teaspoon vanilla extract
1 teaspoon baking powder
½ teaspoon baking soda
½ teaspoon salt
Powdered sugar for garnish
Instructions
Butter a medium cake pan and preheat your oven to 350 F.
Mix the sugar and eggs together until frothy. Pour in the olive oil and vanilla slowly and keep mixing until smooth.
Add the zest and orange juice to the batter and combine.
Sift together the dry ingredients then slowly mix them into the batter (don't over mix).
Pour the batter into the baking dish and bake until brown and a stick in the center of the cake comes out clean (about 30 minutes).
Let the cake cool then dust with powdered sugar and any additional orange zest. Serve alone or with a drizzle of orange liqueur or even some warmed berry jam. Enjoy!