Most people know and love lemon curd – it's tangy, smooth and is usually found in cakes or as a sort of jam. But what about all the other beautiful fruits out there just waiting to be… curd-ified?! (That sounds like a real word. That's my story and I'm sticking to it)
Well, turns out you can make curd with a lot of fruits! Any citrus or berry – and I've seen even seen it with tropical fruits like mango! So find some beautiful fruit and get to curdling! 🙂
There are lots of magical things you can do with fruit curds. I loved the thought of a cake that looked white on the outside and when you cut into it a beautifully rich purple pops out, but the possibilities are endless!  You may want to feature your curd in a more visible way… Or just spoon it directly to your mouth… whatever works! Note, this cake was made with my favorite basic cake recipe: the 1-2-3-4 cake.

Recipe: Blueberry Curd
Prep time:
Cook time:
Total time: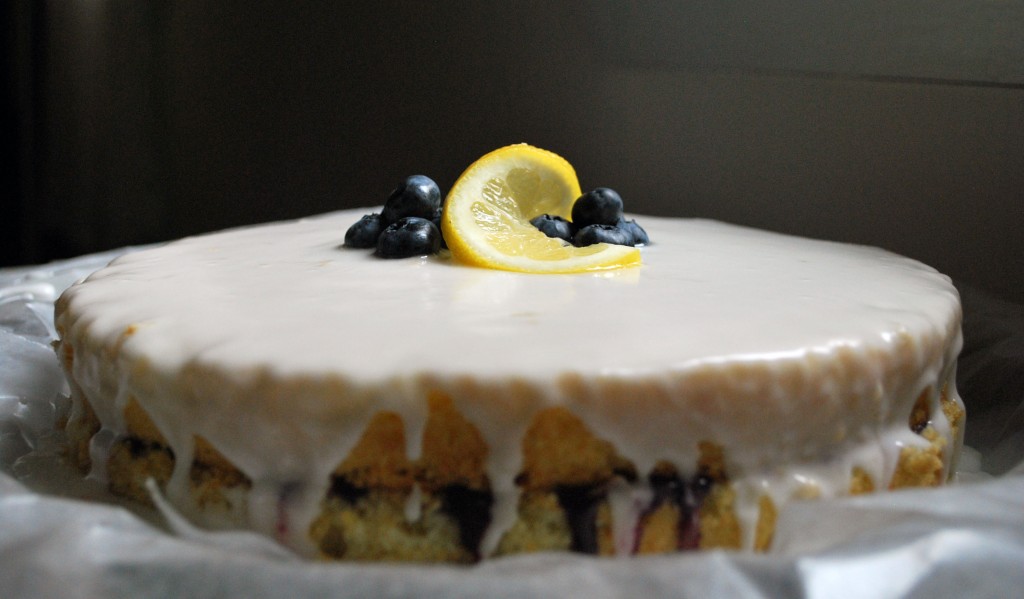 Beautifully deep purple blueberry curd. Use it in a layer cake, with scones or as a jam! Makes about a cup of curd - enough for a 9-inch cake.
Ingredients
1 cup of blueberries
½ cup of sugar
2 tablespoons butter
1 large egg
splash of water
Instructions
Combine the blueberries and water in a small saucepan. Cover and let it simmer until everything is super mushy and smells good. Optional: you can add some lemon zest here if you like. This step takes about 8-10 minutes.
Strain your blueberries to get the chunks out - we want our curd to be smooth and shiny!
Set up a double boiler - bring about an inch of water to a low simmer in a small pan and put your curd in a glass bowl over the simmering water.
Whisk in the butter and sugar until everything is uniformly combined.
Add in your egg and whisk gently until the whole thing reduces and gets to a thicker consistency. This can take anywhere from 20-40 minutes - but the test of readiness is if the curd coats the back of a spoon. It will continue to firm up after you take it off the heat.
Remove your curd from the heat - you can either use it immediately (yum!) or store it in the fridge in an airtight container for up to 2 weeks.
This lemon glaze is the simplest frosting – and the tart lemon is a great complement to both the color and flavor of the blueberry!
Bonus Recipe: Lemon Glaze – Enough to glaze one 9 inch cake
Ingredients
2 cups confectioners sugar
Juice of 2 lemons, strained
Instructions
Put your sugar in a bowl.
Add the lemon juice a bit at a time and mix until the glaze reached the desired consistency. I like mine quite thick but just loose enough to pour over the cake.
Pour it over your cake – it will spread beautifully itself but might need some encouragement from a frosting knife.