Take a quick journey with me….I frequently subject ask my colleagues to taste test my weekend baking projects (bless their hearts, really!), but until now, one colleague has been freed from excluded due to a gluten intolerance. After a weekend spent baking and an arm full of new samples to take to work – I thought I'd research some easy gluten-free sweets so that everybody could share in the sugar high!

After a little tinkering… about 15 minutes… and an apartment that smelled of peanut butter, I ended up with these incredibly fudgy peanut butter cookies. They're so insanely good and so insanely easy that… well, you'd be insane not to make them! Oh and they happen to be gluten-free!
Gluten-Free Peanut Butter Cookies
Prep time:
Cook time:
Total time: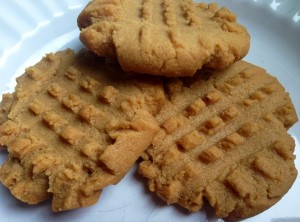 Super easy peanut butter cookies that are moist and chewy, certain to please the gluten free and gluten tolerant!
Ingredients
1 cup creamy peanut butter
1 cup sugar
1 egg
1 teaspoon vanilla extract
½ teaspoon baking soda
½ teaspoon salt
Hershey kiss candy to garnish each one (optional)
Instructions
Preheat the oven to 350 F.
Using a hand blender, mix all the ingredients (except the chocolates) together well.
Scoop out the dough and form them into little ping-pong sized balls with your hands.
Arrange your peanut-butter-ping-pong-balls (say that 5 times fast) on a cookie sheet lined with parchment paper and press a fork in each one to create the classic peanut butter cookie look.
Bake for 10 minutes, then transfer to a cooling rack. (Note, depending on the oil content of the cookies, you may get a little smoke in your oven - just turn the fan on before opening the door).
If you want to, press a Hershey's kiss into each one after they've cooled for a few minutes. Don't press too hard or you'll end up with a peanut-butter donut hole cookie like the one pictured below!
Here are some other cookie recipes you may appreciate!