Ever wondered how to make almond milk?
I made the switch to almond milk a few years ago and haven't looked back since. I love the nutty flavor and the protein without worrying about some of the things associated with too much soy and some of the general ickiness of too much dairy. It's smooth, creamy and dairy free and works in everything from coffee to a morning bowl of cereal – from Lucky Charms to fiber cereal to homemade granola. Almond milk is a true workhorse… Which is why I am very excited to bring you this homemade almond milk recipe!
But if you've been to the almond milk aisle recently – you'll know there are many varieties – plain, unsweetened, vanilla, chocolate, with different nuts mixed in and even a specific blend for coffee! It's crazy – it's getting harder to choose the right milk than it is to buy a car. So after talking to a dear friend (Hi Allison *waves*) about how she makes her own almond milk – I decided to take the plunge. I only wish I hadn't waited to long – it's so easy, satisfying and dang delicious that I've been making fresh almond milk nearly every morning since then! I make a small batch at a time since it doesn't last much more than 2 days – but it's so easy that making it every other day is really nbd.
Soaking the almonds is key to this recipe – yes it requires some forethought but it's about 5 seconds of work to stick the almonds in a bowl and cover them with water. The almonds plump up and get softer through soaking. You should soak them at least overnight but if you can, soak them for two days – the almond milk will be significantly creamier and smoother! Then fast forward to when you're ready to have your milk – stick the almonds in a blender with water, sweetener (I like honey but you can use dates or whatever else you like) as well as any flavoring – I like vanilla – and blend away! You'll need industrial cheese cloth or better yet, a nut milk bag, to strain the almond pulp from the milk but end to end it takes about 3 minutes. And voila, fresh delicious almond milk is ready to enjoy!
The beauty of this recipe is that once you learn the basic formula of 2/3 cup almonds to 2 cups of water, you can tweak it however you like. I started out with just almonds and water but I find a tiny bit of sweetener and homemade vanilla extract rounds out and softens the flavor. It's perfect with cereal, coffee or over some nice homemade granola! So get some almonds out and start soaking today – they'll be ready for a super fresh batch of almond milk for the weekend!
Homemade Almond Milk Recipe
Prep time:
Cook time:
Total time: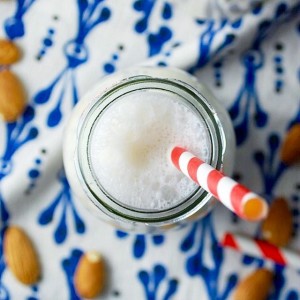 Homemade Almond Milk Recipe - have fresh, creamy and smooth almond milk every morning. Dairy free and vegan, this almond milk is delicious and versatile!
Ingredients
⅔ cup almonds
2 cups water
1 tablespoon honey or other sweetener
1 teaspoon vanilla extract (optional)
Instructions
Let the almonds soak, covered with water, at least overnight or up to two days - the longer they soak the creamier the milk will be!
After soaking, drain the almonds and rinse them a few times until the water runs clear.
Add almonds, 2 cups water, sweetener and vanilla to the blender
Blend on highest setting for about 1 minute, until liquefied
Pour the blended mixture through a fine strainer, like cheesecloth or a nut milk bag into a container - squeeze to get all the milk out. The resulting liquid is your almond milk, and the remaining pulp (the almond meal) can be re-purposed or discarded.
Refrigerate and enjoy within 2 days!
Notes
Special equipment:
Nut Milk Bag
- used to strain the pulp
Powerful blender - I use this
Breville
Storage: store the almond milk in a container in the fridge - it is perishable. The contents may separate but just give it a shake and it will become smooth again.
Want to stay connected & up to date with Ahu Eats? Don't forget to follow on 
Facebook
, 
Instagram
, & 
Pinterest
!