I've been on a serious candy-making kick recently. So much so that it's taken away from making well…. pretty much anything else. It all started with the Pomegranate Caramels, and it's been downhill (uphill!) since. Many different flavors and multitudes of sugary goodness have been coming out of my kitchen lately… which is aptly timed because these beauties are the perfect holiday gift!
After studying and experimenting with many variations on caramel recipes, I noticed many contain corn syrup ( it is used for consistency) which is somewhat… well… gross. If I'm going to consume copious amounts of candy, I better make sure it's the best damn candy without anything unnatural in it! My recipe is adapted from this one by Two Tarts.
The honey – which is an invert sugar – is used in this recipe in place in of the corn syrup and the texture and consistency is perfect.  The flavor starts out just like a classic caramel but they finish out with a faint honey taste which I think gives them a nice richness and depth.
So put on the Yule Log channel while wrapping these up, then package them up real cute for your friends! Note: if you are in the New York City area and would like a box (or two or three!) made by me, please contact me via my contact form.
A recipe for homemade caramels that are soft and chewy and made with honey instead of corn syrup.
Honey Caramels
Prep time:
Cook time:
Total time: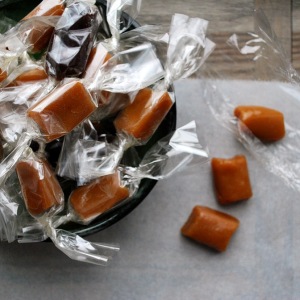 A recipe for homemade caramels that are soft and chewy and made with honey instead of corn syrup.
Ingredients
1 cup granulated, white sugar
½ cup light brown sugar, packed
1 cup heavy cream
½ cup of honey (tip: spray the measuring cup with non stick spray so it comes out easily)
4 oz butter (8 tablespoons) - use the highest quality butter you can find
1 teaspoon vanilla extract
½ teaspoon salt
Instructions
Heat the sugar and honey in a large pot on medium heat and allow the mixture to dissolve and deepen in color.
While the sugar-honey is dissolving, heat the heavy cream in a small saucepan over medium heat until it comes to a simmer.
Once the sugar-honey has darkened a bit (~7-10 minutes), add in the butter and cream. Stir until combined.
Clip your candy thermometer on to your pot and heat over medium-high until the mixture reaches about 248 degrees for a medium-chew. 248 degrees for a chewy candy and 250 for a firm candy.
Remove the pot from the heat and VERY quickly and carefully stir in the vanilla extract and salt (it will bubble violently).
Pour the molten caramel into a glass dish (9x9 works well) lined with heavy parchment paper or silicone baking mold.
Let cool for at least 2 hours then slice and wrap individually - after trying many wrappers theseare the best by far.
Notes
You can use wax paper or other non-stick to wrap, but after trying MANY different types of wrappers,
these candy wrappers
are by far the best. They are what I've used in the photos.
Also, a
candy mold like this
helps them cool quickly and avoids the need for cutting!