So, um, I have a confession. I bought a candy thermometer a YEAR ago and I only just opened it last week (do other people do that with random purchases? please say yes). Turns out… it's really useful! D'oh. I finally pulled out ye ole' thermometer a couple weeks ago to try Smitten Kitchen's Apple Cider Caramel recipe which I've been eyeballing forever. In my version of these Pomegranate Caramels, I've replaced the apple cider with my favorite juice – pomegranate – both for its color and flavor.
The result is a caramel with the deep, rich flavor of pomegranate and its familiar tartness that makes the back of your mouth water (you know what I mean, all the way in the back above your molars!). Oh and let's take a moment to appreciate the color, because these caramels are seductive in every way.
I know the thought of making candy may seem intimidating, but it shouldn't be. The key to making caramel is simply getting it to the right temperature, which ensures it will have the right degree of gooeyness at the end! A thermometer surely makes that easier.
These candies take about an hour of active time, most of which is creating the pomegranate syrup which is like a molasses. Wrapping each one up is really fun – I encourage you to play the Willy Wonka soundtrack while doing it for full effect. I tore sheets of parchment paper (about 5 inches long) and stacked them 3 at a time then cut them into thirds. Made a pretty good sized wrapper for the 1 inch x 1/2 inch candies.
Pomegranate Caramels: The deep, sexy flavor of pomegranate meets the gooey goodness of caramels. All natural, made without using corn syrup.
Pomegranate Caramels
Prep time:
Cook time:
Total time: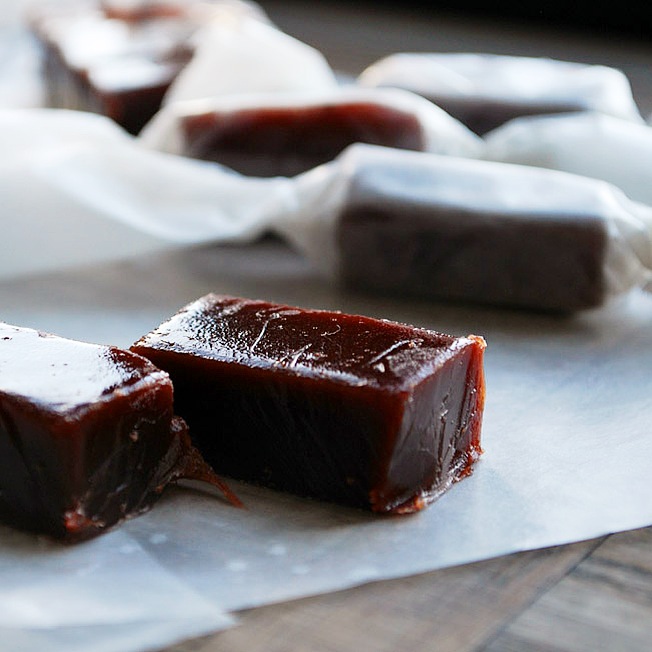 Caramel candies made with pomegranate syrup.
Ingredients
4 cups pomegranate juice
4 oz butter (8 tablespoons) at room temperature, cut into chunks
1 cup granulated sugar
½ cup light brown sugar, packed
1 teaspoon sea salt
½ teaspoon cinnamon
¼ teaspoon cardamom (optional)
⅓ cup heavy cream
Instructions
In a large pot, bring the pomegranate juice to a boil over high heat and reduce until it's a dark, syrupy consistency - stirring occasionally. This can take anywhere from 30-45 minutes.
While your pomegranate juice is reducing, prepare the remaining ingredients as well as a small cookie sheet or pan (about 8 inches) lined with doubled up parchment paper (very important - so your paper doesn't tear and the caramel easily lifts out of the pan).
Once your pomegranate juice has reduced to a syrupy consistency (about ⅓-1/2 cup), remove from heat and add the butter, both sugars and heavy cream. Stir to combine.
Put your pot back onto medium-high heat and clip on your candy thermometer.
Boil until it reaches 248 F (between soft ball and hard ball).
Remove AS SOON AS it reaches 248 F, and stir in your salt and spices.
Pour the caramel into your prepared pan and let it set for about 2 hours on the counter or about 30 mins in the fridge.
Slice carefully with a very sharp knife and wrap in paper and enjoy! Store in an airtight container. Note: they slice best when they are somewhat pliable - a bench cutter works well.
Notes
Note: For a slightly harder caramel, take it to 249-250 F.