Something beautiful happened last month. A few Persian bloggers started emailing and in two shakes of a lambs tail, it turned into this amazing group of 25 of the world's Persian food bloggers celebrating Mehregan with this cyber-feast!
So what is Mehregan? It is the Zoroastrian Festival of Autumn, celebrating friendship, affection and love by means of a large feast. Yes, our currency of love is food! This beautiful ancient Persian tradition has been obscured over the generations, so I was thrilled for not only the chance to learn about our heritage, but to celebrate and elevate it! I highly encourage you to visit all the #Mehregan2014 recipes from a collection of the nicest, most talented and fun group of Persian food bloggers out there! For the list of bloggers participating, see the end of this post. 
Typically celebrated on the 196th day of the year, with Day 1 being March 21 (Norouz), Mehregan usually falls on or around October 2nd. From the scant amount of information about Mehregan, it seems like there is also a haft-seen like table set out with fall-related symbolic objects such as pomegranates, apples and marjoram.
So why did I choose these tangy, tart, torsh (as we say in Farsi) almonds? Well, for one they are addictively delicious – and everybody knows that Iranians are addicted to anything tart, tangy and sour. Second, I always associate nuts with colder weather (ajeel anyone?!) and these sour protein-packed nuts are either impossible to find or prohibitively expensive. Plus, I found the homemade variety to be even more crazy delicious than the store bought – the hint of sweetness from the honey is the perfect counterbalance to the tang of the lime juice. My recipe is adapted from this one by the lovely Azita of Turmeric & Saffron.
So whip up a big batch of what I affectionately refer to as 'Lalmonds' (lime-y or lemon-y almonds) and try to ration these babies out! Oh and don't forget the napkins, since they're covered in gooey deliciousness. 🙂

Tangy Persian Candied Almonds Roasted with Lime
Prep time:
Cook time:
Total time: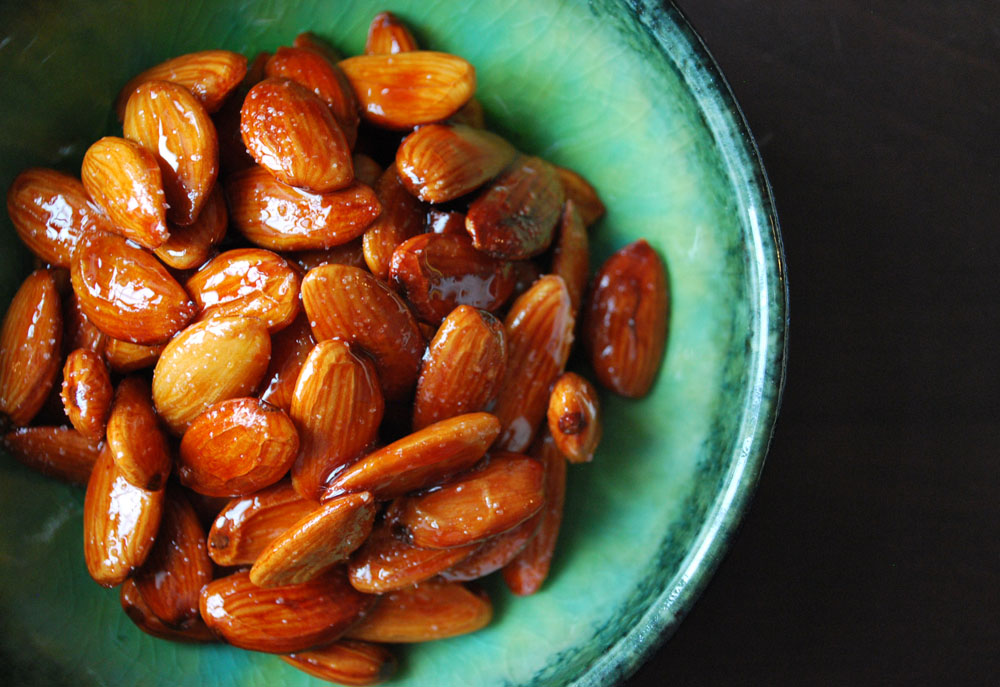 Salty and tangy almonds roasted in a tart lime-flavored caramel. An addictive snack!
Ingredients
1½ cups raw almonds
¼ cup granulated white sugar
⅓ cup lime juice (about 3 limes)
1 tablespoon salt
1 tablespoon honey
½ cup water
Instructions
Have a saute pan and small sauce pan on the stove and a colander at hand.
Combine the sugar, ½ tablespoon salt, honey and water in the small saucepan and heat over medium heat.
Stir over the heat until the solids dissolve and the mixture thickens - about 8-10 minutes.
Toss the almonds in the mixture to coat.
With a potholder, strain the sauce into the saucepan and let the almonds sit in the colander over the saucepan to catch excess drippings.
Add the lime juice to the sauce and cook over medium heat for about 10 minutes until reduced.
Add in the almonds and cook, continuously stirring for another 5 minutes until the sauce has caramelized.
Spread your almonds (they're hot!) over a sheet of wax paper, doing your best to separate them out.
Sprinkle with remaining salt and let cool. Enjoy!
Mehregan 2014:
 The full list of bloggers participating in the online celebration of this ancient Persian and Zoroastrian tradition!
Ahu Eats: Badoom Sookhte Torsh | Sour Caramelized Almonds
All Kinds of Yum: Jeweled Carrot Salad
Bottom of the Pot: Broccoli Koo Koo (Frittata)
Cafe Leilee: Northern Iranian Pomegranate Garlic and Chicken Stew
Coco in the Kitchen: Zeytoon Parvardeh |Marinated Olives with Pomegranate & Walnuts
Della Cucina Povera: Ghormeh Sabzi | Persian Lamb & Herb Stew
Fae's Twist & Tango: Rice Meatballs | Kufteh Berenji
Family Spice: Khoreshteh Kadoo | Butternut Squash Stew
Fig & Quince: Festive Persian Noodle Rice & Roasted Chicken Stuffed with Yummies for Mehregan
Honest and Tasty: Loobia Polo | Beef and Green Bean Rice
Lab Noon: Adas Polo Risotto | Persian Lentils Risotto
Lucid Food: Sambuseh
Marjan Kamali: Persian Ice Cream with Rosewater and Saffron
My Caldron: Anaar-Daneh Mosamma | Pomegranate Stew
My Persian Kitchen: Keshmesh Polow | Persian Raisin Rice
Noghlemey: Parsi Dal
Parisa's Kitchen: Morasa Polow | Jeweled Rice
PersianSpice: Fall in Love with Autumn
Sabzi: Ash-e-Mast (Yogurt Soup with Meatballs)
The Saffron Tales: Jashn-e Mehrgan – Iranian Autumn Harvest Festival
Simi's Kitchen: Lita Turshisi | Torshi-e Liteh | Tangy aubergine pickle
Spice Spoon: Khoresht-e-bademjaan | Aubergine Stew
Turmeric & Saffron: Ash-a Haft Daneh | Seven Bean Soup
The Unmanly Chef: Baghali Polow ba Mahicheh | Rice with Fave Beans and Lamb
ZoZoBaking: Masghati | Persian Scented Starch Fudge