Persian Marzipan Candy – Toot – for Persian New Year! A vegan, no-bake dessert made with just 5 ingredients.
I am really excited about this post for a number of reasons – Norouz is just around the corner (I can almost smell the Sabzi Polo Mahi!), spring is in the air, and I get to participate in this #Norouz recipe round-up with a group of the most talented Persian food bloggers around! I'm honored to be included (huge shout out to Sanam of My Persian Kitchen for being the brain behind it) – and with such an amazing collection of recipes I have no doubt that this will be the most delicious Norouz yet! This is a season of new beginnings, celebrations and of course things that taste and smell delicious – so pop a couple of these candies into your mouth to ensure a sweet year!
Any Iranian knows toot candy – it's a delicious marzipan candy scented with Persian flavorings and shaped to look like it's namesake – the fruit from a mulberry tree! Traditionally served at Norouz or other celebrations, I liked the candy but like many other dishes, never even thought about making it myself. After reading the recipes for toot from Turmeric and Saffron, Fig & Quince and My Persian Kitchen, I decided to give it a go. Boy am I glad I did – not only are they super easy to make but delicious and festive! A perfect treat to have around during the Norouz season to share with friends, family and loved ones. Bonus: they're gluten free too!

Norouz 2014 Recipe: Toot - Persian Mulberry Marzipan Candy
Prep time:
Cook time:
Total time: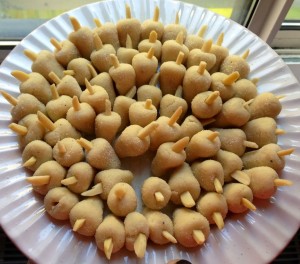 Persian Marzipan Candy - Toot - for Persian New Year! A vegan, no-bake dessert made with just 5 ingredients.
Ingredients
1 cup of slivered almonds, plus more for garnish
1 cup of powdered sugar
½ cup granulated sugar
2 tablespoons of rosewater (golab)
¼ teaspoon cardamom
Instructions
Add 1 cup of almonds, the powdered sugar and cardamom to your food processor. Blend for 2-3 minutes until it is all an even consistently.
Add in 1 tablespoon of rosewater and blend for another minute. Repeat with the 2nd tablespoon of rosewater. The mixture should come together as a dough now - test it with your fingers. If it has some give and feel like dough, you're ready!
Now is the assembly line part. Fill a flat, shallow pan with your granulated sugar - this is what you'll roll your formed toot in to coat.
Pinch a piece of dough and roll between your palms into a ball about the size of a grape. Once you've made a ball, form it into a cone by pinching one end and flattening the other.
Roll your marzipan cone in the granulated sugar bath and finally, insert a long almond sliver into the fatter end to make it look like the stem of the mulberry fruit. Now repeat this about 50 times! 🙂 Serve immediately or store in an air tight container and enjoy later!
***Note: you can use slivered pistachios as the 'stem' as well - I find slivered almonds much easier to find/make!

Participating Bloggers In The Norouz Recipe Round-Up 2014
Afsaneh's Persian Kitchen – Koloucheh Ahwazi – Cookies for Nowrouz 
Ahu Eats – Norouz 2014 Recipe: Toot – Persian Mulberry Marzipan Candy
Café Leilee – Northern-Iranian Style Herb Stuffed Fish
Fae's Twist & Tango – Naw-Ruz, A New Year Recipe Round-up!
Family Spice – Norouz Twist on Kookoo Sabzi (Persian Herb Quiche with Chard and Kale)
Fig & Quince – A Norouz'a Palooza
Lucid Food – Persian Raisin and Saffron Cookies for Norooz
My Persian Kitchen – Naan Gerdooee ~ Persian Walnut Cookie
Simi's Kitchen – New Blog for Nowruz
Spice Spoon – Noon Berenj – Thumbprint Rice Flour Cookies with Saffron & Rosewater for Persian Nowruz
The Pomegranate Diaries – Nowruz Inspired Pistachio, Rosewater and Cardamom Shortbread Cookies
Turmeric & Saffron – Loze Nargil – Persian Coconut Sweets with Rosewater and Pistachios for Nowruz
West of Persia – Happy Nowruz, Recipe Roundup, and a Classic: Kuku Sabzi on TV
Zozo Baking – Nane Nokhodchi Nowruz Iran
From my kitchen to yours – Norouz Mobarak – wishing you a sweet and healthy year filled with joy and laughter!
Love, Ahu