Lavashak. Yep, I said it. Did your mouth immediately start watering? If so, you can skip to the next paragraph. If not, let me explain! So, what is this magical food? It's Persian fruit leather!
For those of you who grew up on lavashak, I'm sure you could close your eyes now and see summer days with sheet trays of beautiful, liquified fruit drying on balconies, in backyards or even roofs. Consumed in probably 1/10th the time it took to prepare, waiting for the lavashak to dry was torture!
Fast forward to today and life in The Big City – where rooftop means the 37th floor of a highrise and any food left on a roof can be sure to be, um, attended to by roaches / pigeons / hungry neighbors. So not only am I giving you a recipe for lavashak today, but I'm going to teach you how to make it in the comfort of your own oven!
With a little bit of advance planning, you can have your own Persian fruit leather the same day. It's such a versatile recipe – you can really go crazy with the fruits you use – most fleshy fruits will work. Think apples, berries, stone fruits, etc. More watery fruits (ie watermelon) will also work but will take longer to dry out in the oven. Another bonus – you can use fruit that's not perfect looking or a bit past its prime – once you cook them down they'll just be delicious!

Lavashak - Persian Fruit Leather
Prep time:
Cook time:
Total time: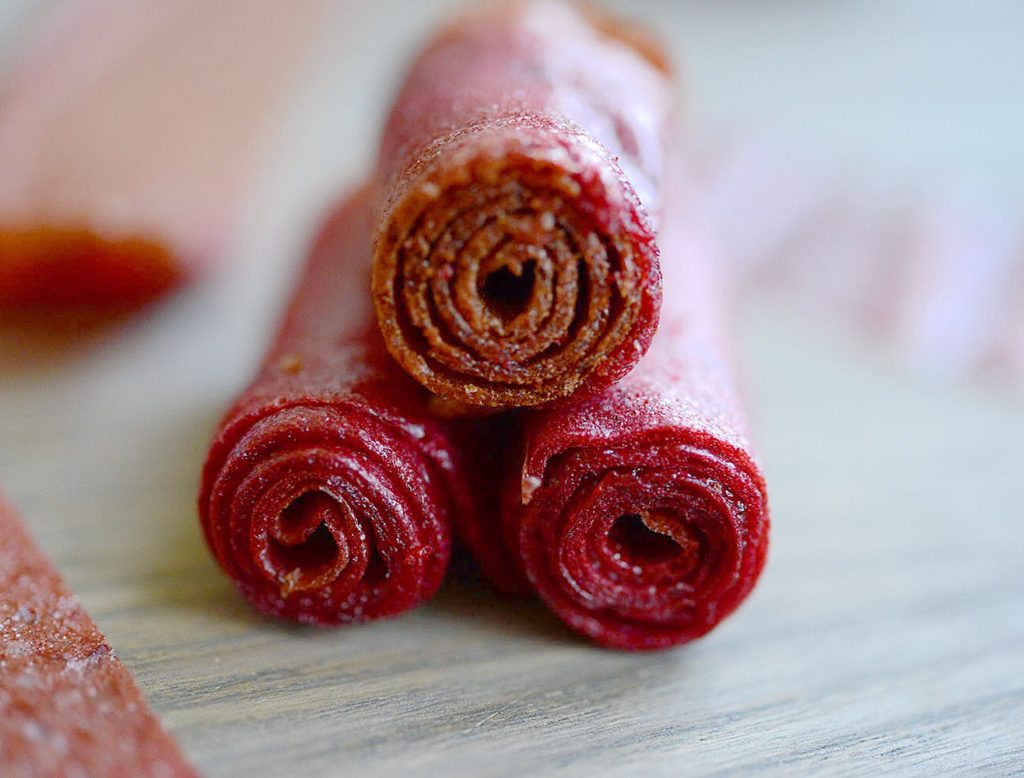 Lavashak, or Persian style fruit leather, is an easy to make snack of dried fruit dried out in your oven! Healthy, tasty and vegan!
Ingredients
6 medium plums or other fleshy fruit like apple, peach, cherry etc
½ cup water
Dash of salt
Instructions
Wash and roughly chop the plums. Keep the peels on as it adds wonderful flavor and color!
Place the plums, water and salt into a sauce pot and bring to a simmer over medium heat.
Let simmer for 30 minutes, stirring occasionally, until the fruit is mushy to the point of falling apart. (Watch the water level carefully and add a bit more over time if it starts to burn)
Using an immersion blender (or transfer the contents to a blender), blend the fruit well.
Continue to blend until no chunks are visible and the consistency is very smooth.
Preheat your oven to 200 F.
Line a cookie sheet with parchment paper.
Spread the fruit mixture on the cookie sheet (here's where the cake spatula comes in handy) in an even layer about ¼ inch thick.
Bake in the oven for about 4-5 hours, checking every hour.
The lavashak is done when there is no visible wetness and the fruit leather separates easily from the paper.
Cut into strips and enjoy!
*Please note this post contains affiliate links which means that if you end up buying a product, I'll make a tiny profit at no extra cost to you.
Want to stay connected & up to date with Ahu Eats? Don't forget to follow on Facebook, Instagram, & Pinterest!