Hello, friends! I can't believe it's already getting to be my favorite time of year. Summer is still very much here with warm days but Fall is creeping her way into the days from both ends with a hint of crispness. I don't know about you, but just the promise of Fall's arrival gets me all giddy – it's the season when I feel most alive. Bring on the sweaters, boots and changing leaves. There's also something very special about Fall and the build up to the holiday season in NYC. I can't describe it in words – you just have to experience it for yourself.
But wait! I'm here with a recipe for ICED coffee.

Yep – all that Fall romanticism aside, it's still definitely hot enough for an iced coffee to be a go-to beverage. Or maybe you're one of those folks who drinks an iced coffee year round (I never really understood that – anybody care to explain? Show yourselves!). Either way, this cardamom rose iced coffee is worth checking out, no matter the weather.
I have to admit, the idea of this drink has been haunting me for a while. During my regular scroll-sessions through Pinterest, I often come across this drink from Local Milk, a blogger whose work I find particularly inspiring – her photos are incredible! Of course, the words 'cardamom' and 'rose' caught my eye, not to mention the pictures – I was intrigued! I studied the recipe – Beth's fastidious Japanese-style preparation of the coffee is impressive. I was inspired to recreate the drink, but in my own style.
So here we have it – a lovely Persian-style coffee. I have made this a few times now, and each time I feel like I'm doing something special for myself – almost akin to making a wonderful cocktail! With a little foresight, you'll enjoy the harmonious mix of flavors – the earthy cardamom balancing the coffee's natural acidity with its warmth. And the hint of rose and creamy milk rounds this drink into a smooth, creamy delight. You won't be disappointed. I promise.
You won't be disappointed. I promise.

Cardamom Rose Iced Coffee
Prep time:
Cook time:
Total time: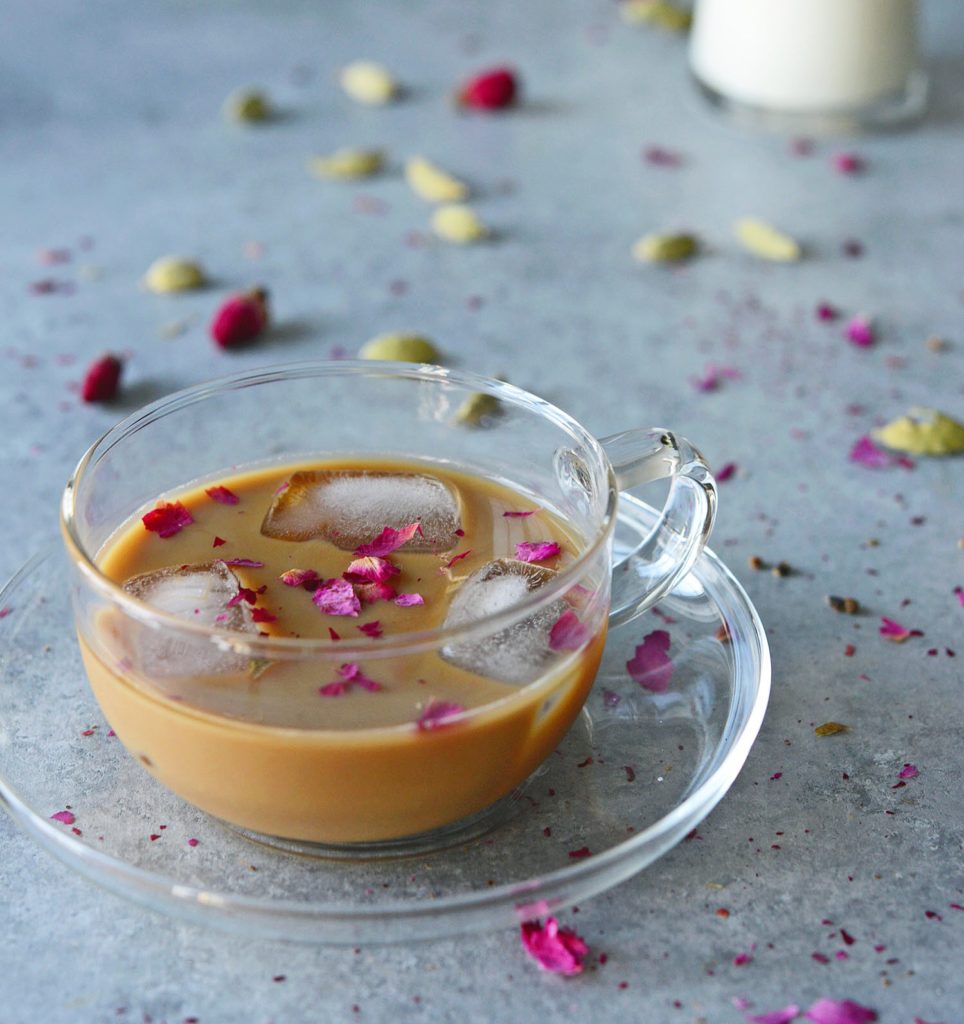 Cardamom rose iced coffee - the warmth of cardamom spice and the floral notes of rose meet in this earthy, delicate Persian-style coffee cocktail.
Ingredients
2 cups of coffee, chilled
⅔ cup of milk (I recommend using low or full-fat milk)
2 tablespoons cardamom pods, crushed
½ teaspoon rosewater
Ice cubes
Instructions
Make 2 cups of coffee by your favorite method. Chill until cold.
Using the back of a wooden spoon or mallet, crush the cardamom pods so they split open.
Add the cardamom and milk to a small saucepan and heat over low heat for 20 minutes, stirring occasionally.
Milk should be very fragrant at this point - add the rosewater and continue to stir over the heat for another 5-10 minutes.
Strain and discard the cardamom pods from the milk.
Chill the milk until cold.
Add ice cubes to a coffee cup. Fill the cup ⅔ of the way with coffee, then the remainder with milk.
Stir and enjoy!
Notes
This recipe was adapted from the wonderful
Local Milk
.
*Please note this post contains affiliate links which means that if you end up buying a product, I'll make a tiny profit at no extra cost to you.
Want to stay connected & up to date with Ahu Eats? Don't forget to follow on Facebook, Instagram, & Pinterest!