Helloooooo August. August means high-vacation season, hot weather and the irresistible urge to have a cocktail, outdoors. For us city dwellers, that means finding the nearest rooftop and imbibing. For those of you lucky enough to have your own outdoor space, you're probably spending a lot of time on your patio / backyard / deck. Well, luckily, this recipe for a Pomegranate Rose Gin Fizz, a lovely little cocktail works no matter where you enjoy it!
Let me tell you what I love about this cocktail.
1)  The color.
2) The bubbles.
3) The fruity, flirty flavor.
4) Enjoying one (or more) of these while watching the Rio Olympics. Any other Olympics fans out there? I love it!
5) And oh yeah, and the gin! 😀
I don't know about you, but I love a good gin cocktail. I find that gin, with it's earthy and botanical flavor, pairs really nicely with other fruity components! The pomegranate flavor in this cocktail is mildly sweet and tart, and the touch of rosewater adds a lovely scent without overpowering the flavor.
And let us not forget to appreciate the color and appearance of this gorgeous pink cocktail! Because we drink with our eyes first. So pour yourself a beautiful Pomegranate Rose fizz and enjoy the summer.
Bonus tip: I made my ice cubes extra beautiful by placing culinary-grade dried rosebuds in the ice cube tray, pouring water over it then freezing them for a suspended rose look – they look beautiful floating around in the drink!

Pomegranate Rose Gin Fizz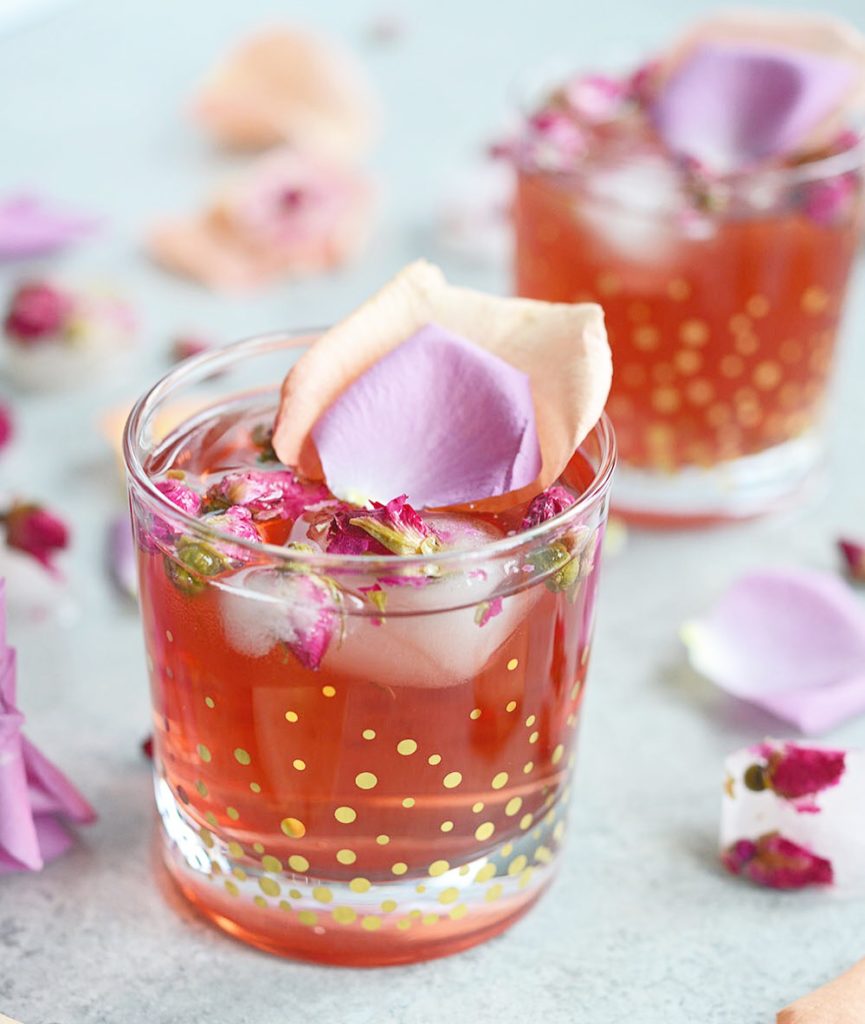 This Pomegranate Rose Gin Fizz is a gin-based cocktail with pomegranate juice, club soda and a splash of rosewater for a lovely pink, Persian-inspired drink.
Ingredients
2 ounces (4 tablespoons) chilled gin
2 ounces (4 tablespoons) chilled pomegranate juice
1 teaspoon rosewater
8 ounces (1 cup) chilled club soda or sparkling water
Ice cubes
Instructions
Combine all the liquids in a pitcher and mix gently.
Add 2-3 ice cubes to 2 glasses or tumblers.
Pour the Pomegranate Rose Gin Fizz over ice and enjoy !
*Please note this post contains affiliate links which means that if you end up buying a product, I'll make a tiny profit at no extra cost to you.
Want to stay connected & up to date with Ahu Eats? Don't forget to follow on Facebook, Instagram, & Pinterest!