Here is my recipe for bastani – a traditional Persian ice cream flavored with saffron, rosewater and pistachios.
For my Persian friends out there, you know the unmistakable flavor of this bastani – or Persian ice cream. Earthy from saffron, a hint of floral flavor from the rosewater and the satisfying crunch of the pistachios, it is the ultimate summer treat.
It sounds luxurious so it must take hours of toiling in the kitchen to make, right? Wrong! This is a no-churn, semi-homemade ice cream! And until Santa brings me the ice cream maker attachment for my KitchenAid, I'm sticking with my beloved semi-homemade method of making ice cream. Because it's easy and damn delicious!
This Persian Saffron ice cream – also called bastani sonnati or bastani akbar mashti – is something I always remember eating between two flat wafers as a delicious sandwich of goodness. Often studded with frozen fresh cream, I can only imagine the caloric bomb these delectable treats were! But on a hot summer afternoon with the sun beating down and no relief to the heat wave in sight (kindof like today), there's nothing less than some delicious ice cream to do the trick.
I like to use gelato for this recipe because it stays really creamy, but in a pinch you can use ice cream as well. The saffron will turn it a beautiful color of orange-y yellow and the smell is divine. Enjoy 🙂

Bastani - Persian Rosewater, Saffron and Pistachio Ice Cream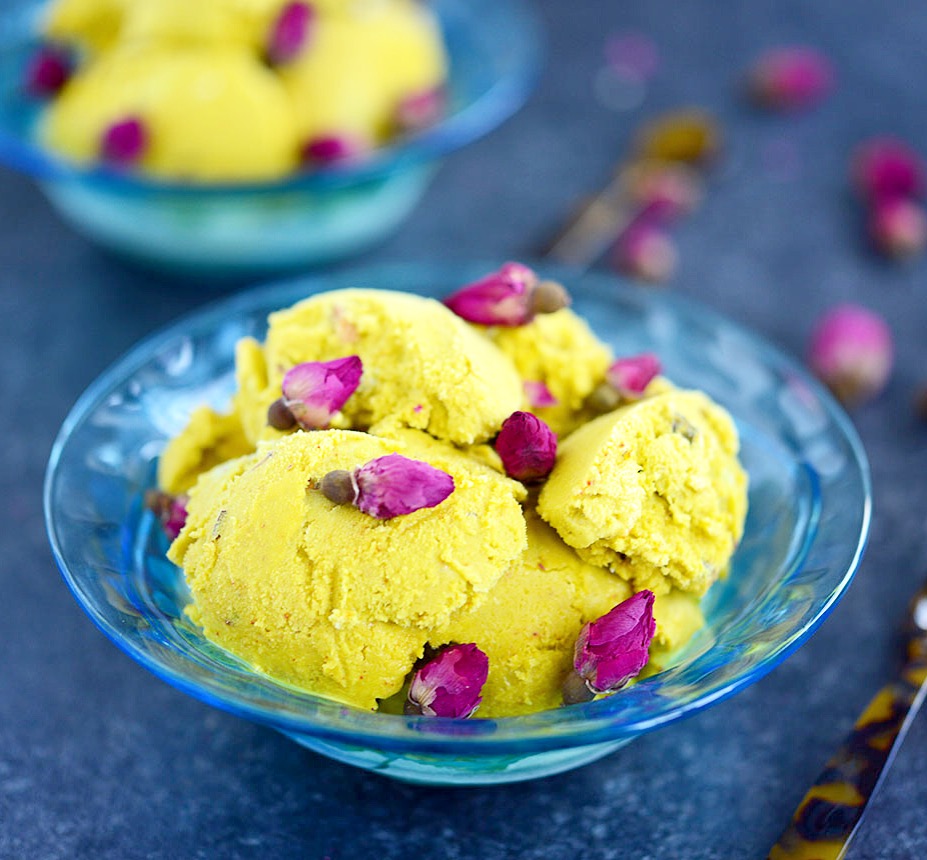 No churn bastani - Persian ice cream with rosewater, pistachios and saffron. A semi-homemade Middle-Eastern treat!
Ingredients
1 pint pistachio gelato (I prefer gelato because the end result is more creamy instead of icy)
¼ cup of rosewater
1 teaspoon powdered or ground saffron
Instructions
Let your gelato sit on the counter for about 15-20 minutes until soft.
Heat the rosewater in a small mug in the microwave for 30 seconds until hot.
Add the saffron to the rosewater and stir to combine.
Scoop the softened ice cream into a mixing bowl, and pour the beautifully orange saffron-rosewater mixture over it.
Mix well with a spoon until all combined.
Pour the softened bastani back into the ice cream container and freeze for at least an hour or until it reaches your desired consistency.
*Please note this post contains affiliate links which means that if you end up buying a product, I'll make a tiny profit at no extra cost to you.
Want to stay connected & up to date with Ahu Eats? Don't forget to follow on Facebook, Instagram, & Pinterest!