Are you currently sniffling, feeling a tinge in your throat, or generally fighting something off? Or maybe you know somebody who is. I'm not surprised! During the wacky temperature-rollercoaster we call early Spring, the big fluctuations in weather means a lot more sniffles, colds and other ailments to go around. Which is why you need this Ginger Honey Lemon Tonic in your life!! This recipe was actually inspired by a time when I myself had a tickle in my throat and was desperate for a cure. I ventured into the Le Pain Quotidien in my office building and tried this seasonal drink and was immediately hooked! Not only was it tasty and soothing, but my throat tickle was vanquished – success!
The drink was so good, I kept finding excuses to go back and order it even when I was feeling perfectly ship-shape.
"Hey Bob, let's have our meeting at the coffee shop today!" <– me, pretty much every chance I had.
But my addiction wasn't sustainable and people at work were starting to get annoyed by the fact that I only accepted meetings that included the words "Ginger Honey Lemon Tonic" in the subject line. So… I set out to make my own version – without any added sugar – so I could feed my addiction at any time!
Turns out, it is stupid easy to make and dare I say tastes even better fresh? If you like things a bit sweeter, you could add in some simple syrup, sugar or extra honey but I think the flavor comes together perfectly with a delicate balance of mild ginger, lemon and honey .
The benefits of this Ginger Honey Lemon tonic abound – ginger has anti-inflammatory properties and both it and the lemon are great for digestion. Honey of course adds a touch of sweetness and if you can get your hands on a local variety, it might help with seasonal allergies. I called this a tonic because it sounds all fancy and medicinal but I've actually been enjoying it as a caffeine-free alternative to tea, and I find it to be calming before bed. Plus, the smell of the ginger, lemon and honey when heated is so pleasant. Saving money on scented candles… added bonus of making this recipe! 🙂
Long story short, this ginger honey lemon tonic will cure what ails you – even if what ails you is simply a long day, the stress of daily life or simply something to cleanse and detox your system. So enjoy the taste, smell and comfort of a hot mug full of this healing tonic. 🙂
Ginger Honey Lemon Tonic: a hot, caffeine-free alternative to tea. This drink helps fight off the sniffles, improve digestion or just comfort you.
Ginger Honey Lemon Tonic
Nutrition Information
Serving size:

1 cup

Calories:

72
Fat:

0

Carbohydrates:

19

Sugar:

17

Sodium:

2

Protein:

0
Prep time:
Cook time:
Total time: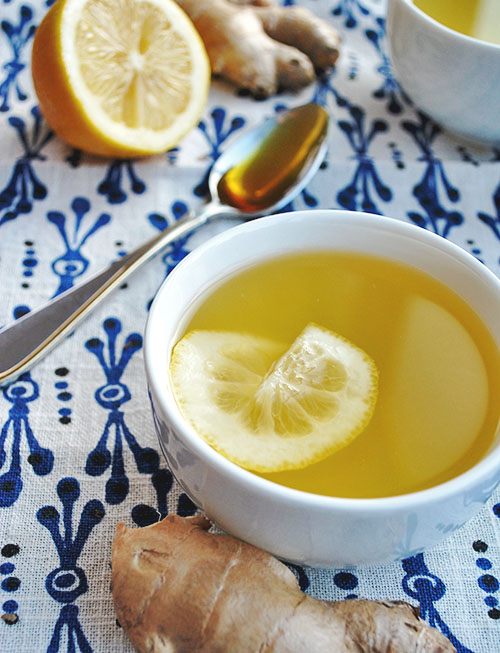 Ginger Honey Lemon Tonic: a hot, caffeine-free alternative to tea. This simple, restorative tonic will help fight off the sniffles, improve digestion or just comfort you with it's warm smell and delicate flavor.
Ingredients
1 cup water
1 knob of ginger, about an inch
1 lemon
1 tablespoon honey
Instructions
Prepare the ginger by peeling it and slicing roughly, about ¼ inch chunks.
Add the water, honey and ginger to the pot.
Juice ½ the lemon into the pot (reserve the other half in case you like it more lemon-y).
Heat the tonic over very gentle (low) heat for 5-10 minutes, COVERED. The tonic should just barely be simmering. It's important to cover the pot so you don't lose the liquid to evaporation.
Fish out the chunks of ginger then slice the remaining lemon half and add to a cup.
Pour the tonic over the lemon slice and enjoy immediately! Preferably curled on a comfy chair with a great book in hand.
Notes
Notes:
- You could grate the ginger for more pronounced flavor with less ginger, but then don't forget to strain the ginger pulp from the drink!
- Make it vegan by substituting a different sweetener like agave syrup.
Want to stay connected & up to date with Ahu Eats? Don't forget to follow on Facebook, Instagram, & Pinterest!