Doogh is a classic Iranian drink – refreshing, minty and bubbly! Perfect to cool you down or to wash down a big Persian meal.
Doogh. The word should conjure instant visions of a large Persian meal including mounds of beautiful rice and kabobs. Doogh is a fizzy, yogurty and minty drink – everything that makes it perfect for washing down a heavy meal or cooling you off.
Although unusual, this drink is simple and satisfying. The combination of yogurt with fizzy water and mint makes it a light counter-balance to a carb-laden meal. It's also a refreshing drink to sip on during warmer weather – load it up with ice cubes for a cold treat!
And while the idea of a salty, carbonated drink may seem unfamiliar to some, it is actually very similar in components to a salty Indian lassi drink! And I couldn't imagine anything going better with a savory meal than a savory drink!
I can see you thinking 'beer!' right now, but trust me. If you're having Persian food, you'll want doogh. You just will.
If you don't like your doogh too salty, adjust the seasonings – some may find that the yogurt and mint give enough flavor to the drink and that it doesn't need additional salt. Some may like less or more carbonation so feel free to adjust the water to club soda ratio as well.
So the next time you're sweating it out on a warm day or looking for something to wash down your big Persian meal of chelo kabob, look no further than a refreshing glass of doogh!
Last but certainly not least, if you don't already know about Yummly, you need to know! It's a new food sharing site that's been exploding recently. Use it to search recipes by all sorts of criteria like time, flavors, allergy information and many others! Or simply browse and find something delicious. If you are using Yummly, connect with me here. 🙂
Want to stay connected & up to date with Ahu Eats? Don't forget to follow on Facebook, Instagram, & Pinterest!

Doogh - Persian Yogurt Drink
Nutrition Information
Serving size:

1 cup

Calories:

45
Fat:

0

Carbohydrates:

3

Sugar:

3

Sodium:

97

Protein:

8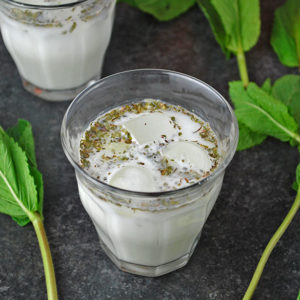 Doogh is a refreshing Persian carbonated drink of yogurt, mint and club soda. Enjoy this traditional Iranian yogurt drink when it's warm out or with a dinner of chelo kabob!
Ingredients
¾ cup plain yogurt - the more sour and tangy varieties work best
1 cup cold water
1 cup cold club soda
1 teaspoon dried mint
1 pinch salt (optional)
Fresh mint for garnish
Ice
Instructions
Add the yogurt, water and club soda to a pitcher. Stir to combine - a whisk or fork works best.
Add the dried mint and salt and mix up.
Add in the desired amount of ice.
Taste and adjust seasonings.
Pour into glasses and garnish with mint.