I had a revelation recently. A revelation in the form of this delicious, neon purple (magenta?), creamy beet tahini dip. Oh my word… I wanted to shmear it on everything and dip everything in it. It's THAT good. For those beet lovers out there (Welcome, I am the President of the Beet-Lovers-Club) and for those who have a shaky relationship with beet alike, this is a must try. With just 5 ingredients and 10 minutes, you too can enjoy this incredibly easy, delicious and stunning dip. Did I mention gluten free and paleo if you care about those things? Yup. 🙂
You might think of beetroot as the vegetable you tried to avoid as a kid, but it's making a comeback, and rightfully so. You probably already know that beets are healthy (high in fiber, Vitamin C  and anti-inflammatory) but let's appreciate it for more than just being a healthy food. It has an earthy, fruity flavor unlike any other vegetable I know. So I know you've probably had beets recently in salads, with yogurt, or just plain roasted. But why not try this easy dip to make the beet the star of the show!
Warning: this beet tahini dip might replace hummus as your favorite go-to it's so good! Or serve it alongside the hummus… or get real crazy and swirl it in! 🙂 In any case, I'll get off my beet soapbox now and back to using two hands to dunk my crackers into this *looks down*. So come on, why don't you try it too? 😀
This easy vegan beet tahini dip is creamy, tangy, and packed with beautiful color and nutrients.
Creamy Beet Tahini Dip
Nutrition Information
Serving size:

⅓ serving

Calories:

106
Fat:

7

Carbohydrates:

9

Sugar:

6

Sodium:

550

Protein:

2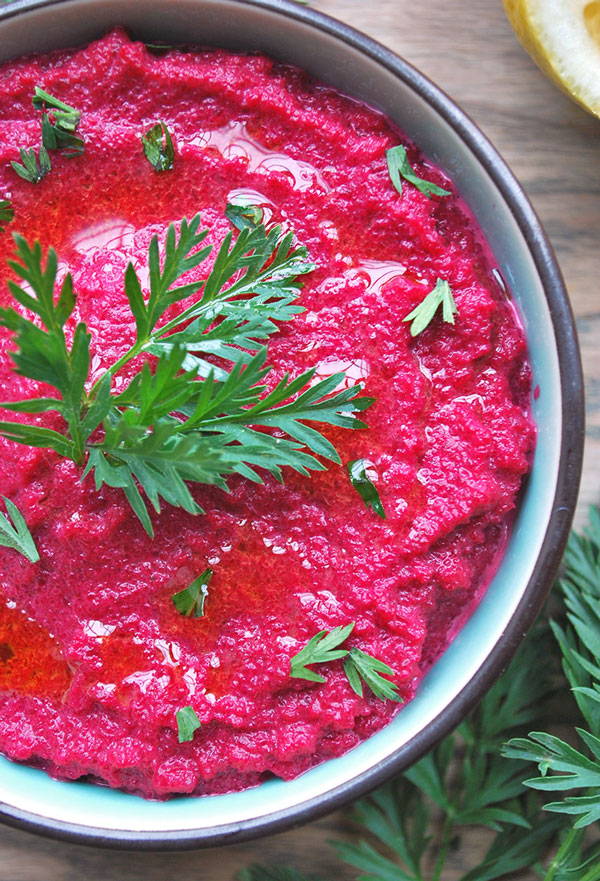 This vegan beet tahini dip is creamy, tangy, and packed with beautiful color and nutrients. Ready in under 10 minutes, add this beautiful dish to your next simple dinner or entertaining menu!
Ingredients
3-4 medium cooked beets or 1 15-ounce can of beets
1 tablespoon tahini
1 tablespoon olive oil
1 lemon, juiced
1 clove of garlic
Salt
Pepper
Instructions
Cut your beets into rough chunks and add to your food processor or blender.
Add in the tahini, olive oil, lemon juice and garlic.
Start by seasoning with a ½ a teaspoon of salt and a dash of pepper (you can adjust this later).
Blend or pulse for 30 seconds - use a spoon to scrape down the sides if necessary.
Very carefully get a taste with a spoon and adjust salt and pepper seasonings if necessary.
Continue to blend until reaching your desired consistency - I like mine not completely smooth but free of big chunks.
Serve immediately with your favorite dip-vessel like pita chips, chips, crackers or veggie sticks!
Want to stay connected & up to date with Ahu Eats? Don't forget to follow on Facebook, Instagram, & Pinterest!