That's right… I'm back with Part 2 of my German series – check out Part 1 here, the German Raspberry Thumbprint Cookies. Even though I've been back from Germany for a few months now, I'm still thinking about all the amazing food I ate there and enjoying recreating some of my favorites. Which brings us to… German Pancake Soup! Also known as Flaedlesuppe/Flädlesuppe – it is a very special dish and both unique in its appearance and taste. Flädlesuppe, is a serious comfort food for many who come from Southern Germany, more specifically the Swabian region. Before I tried it, I wondered how satisfying such a simple dish could be, but it's simplicity is what warms you up and fills you without being heavy.
A traditional Southern German comfort food, Flädlesuppe is a vegetarian soup made of broth, vegetables and noodles made out of pancake-like crepes.
A delicate broth is poured over handmade noodles (which are really pancakes or crepes cut into strips) along with a garnish of herbs or julienned vegetables (I use carrots). The recipe couldn't be simpler to make – and the wonderful thing about the pancakes is that they freeze beautifully. And at well under 200 calories a serving, it's surprising how filling and satisfying the soup is – serve it with bread, a side dish or just on it's own.
I currently have a container full of frozen Flädle (German for those crepe-like pancakes) in my freezer, ready to go whenever I need a warm, comforting bowl of soup. My recipe was adapted from Tara's Multicultural Table – visit her page to read her story about her visit to Bavaria and Schloss Neuschwanstein. As Tara says, the broth really shines in this soup so find the best one you can, or better yet use homemade broth.
It really speaks to the power of food when you see how each culture and region have such different yet wonderful comfort foods. As a child, mine was a big heaping of Ghormeh Sabzi with Persian Rice and tahdig or perhaps a steaming bowl of Aash. In Germany I found Flaedlesuppe or Spaetzle to be a homey favorite. What's your go-to comfort food?
German Pancake Soup - Flaedlesuppe
Nutrition Information
Serving size:

1 cup (1/6th recipe)

Calories:

138
Fat:

4

Carbohydrates:

18

Sugar:

2

Sodium:

345

Protein:

7
Prep time:
Cook time:
Total time: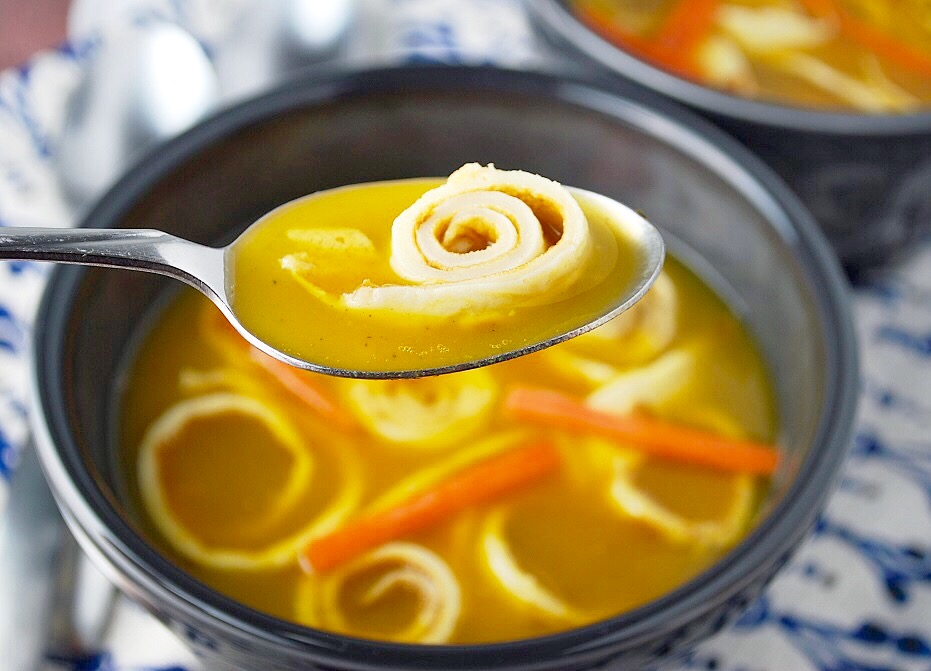 A traditional Southern German comfort food, Flädlesuppe is a vegetarian soup made of broth, vegetables and noodles made out of pancake-like crepes.
Ingredients
1 scant cup of flour (1 cup minus 2 tablespoons)
2 eggs
1⅓ cups milk
4 cups (32 oz) vegetable broth
1 tablespoon cooking oil
2 carrots, julienned
Ganish of choice (parsley, chives or cilantro, etc)
Salt and pepper to taste
Instructions
Prepare the batter by mixing the eggs, milk, flour and ½ teaspoon of salt.
Whisk the ingredients together until the batter is smooth - then let the batter come to room temperature.
Heat the oil in a non-stick pan over medium heat and ladle enough batter to cover the pan thinly.
Cook for about 90 seconds (until the pancake looks dry and the edges separate easily) then flip over.
Cook for another 90 seconds until both sides are a light golden brown.
Stack the pancakes (separate each one with a paper or napkin to keep them from getting soggy) while they cool off.
While the pancakes are cooling, bring the broth and carrots to a simmer in a large pot. Season to taste with salt and pepper.
While the broth simmers, cut the pancakes by rolling them up and then slicing them into thin strips about ¼ inch each. You can freeze them at this point in a tupperware. You'll end up with a bunch of pinwheel like strips of 'flaedle'.
Once the soup has come to a boil and you're ready to serve - place a small number of the pancakes in each bowl and pour the hot soup over them.
Garnish and serve immediately.
Want to stay connected & up to date with Ahu Eats? Don't forget to follow on 
Facebook
, 
Instagram
, & 
Pinterest
!