I don't know about you but I just love Indian food – there's a particular hole-in-the-wall that I frequent more often than I care to admit and their stews are so comforting it's like being at home. So this week, after the massive Snowpocalypse that shut down all of New York City – including my beloved hole-in-the-wall – I was craving that warm, cozy feeling I get from my favorite Indian place. So after playing around with this recipe from the The Kitchn for a while, I came away with this incredible recipe for a vegan curry soup that's chock full of your favorite vegetables and packed with flavor and nutrients. It has just the right kick of spices that are balanced out with a hint of creaminess from the coconut milk – all for 200 calories a bowl. I'll have seconds and thirds, please!
And let me just sing the praises of the slow cooker for a minute – there really is nothing more satisfying than coming home after a long day to the smell of dinner wafting through the house. Unless you have a personal chef or helping hand…. that's where the slow cooker comes in. Even though I'm not huge into cooking appliances – since they take up space and typically a bit of good ole' elbow grease does the same job – the slow cooker (or Crock Pot) is well worth both the counter space and money.
Just a final note – this recipe makes a lot of soup, but that's a good thing. You'll be licking the bowl after the 2nd serving and craving more the next day. Good news for you – the flavors get even deeper the next day so dig on in 🙂 The soup can be frozen and stored in the freezer as well. Drag out that slow cooker and enjoy this wonderful stew!
And now, here is the recipe for how to make Indian curry in the slow cooker!
Vegan Curry Soup in the Slow Cooker
Nutrition Information
Serving size:

1 cup (1/10th of recipe)

Calories:

207
Fat:

3

Carbohydrates:

38

Sugar:

8

Sodium:

312

Protein:

10
Prep time:
Cook time:
Total time: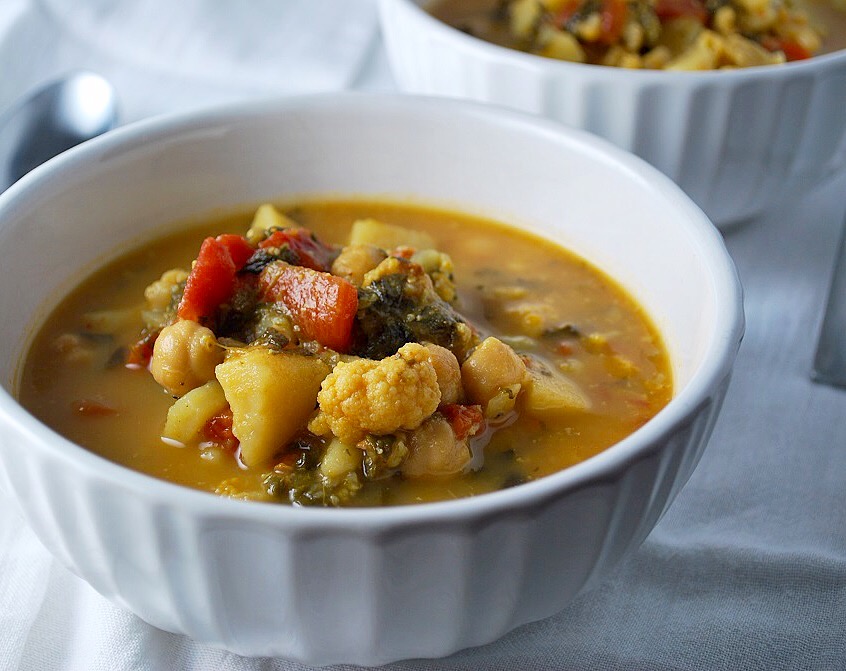 A vegan vegetable curry soup that essentially cooks itself in the slow cooker. This Indian inspired dish will warm you from the inside out for just 200 calories per serving!
Ingredients
1 head of cauliflower, washed and cut into florets
2 medium carrots - washed, peeled and diced
28 oz (2 small cans) diced tomatoes
30 oz (2 cans) of canned chickpeas, drained and washed
2 medium potatoes - washed, peeled and diced
10 oz chopped, frozen spinach (1 package)
1 medium onion, diced
3 medium cloves of garlic, minced
1 tablespoon grated ginger
4 cups low sodium vegetable stock
1 tablespoon olive oil
1½ tablespoon curry powder
1 teaspoon red pepper flakes
1 tablespoon brown sugar
1 cup coconut milk
Instructions
In a large saute pan, cook the onions in one tablespoon of olive oil along with a tablespoon of salt.
Once the onions are translucent, add in the potatoes and saute for another few minutes until softened.
Add the ginger, garlic, curry powder and brown sugar to the pan and stir to combine and take off the heat.
Add the potato fry to the slow cooker along with the cauliflower, carrots, tomatoes, chickpeas, spinach and vegetable stock and another 2 tablespoons of salt.
Cook on high for 4 hours then add the coconut milk and stir in.
Cook for another 15 minutes then serve and enjoy!