Healthy and gorgeous Cranberry Frozen Yogurt Popsicles made with yogurt and leftover Thanksgiving cranberry sauce. Fun and tasty!
Cranberry sauce is something I look forward to preparing and eating every year at Thanksgiving! Our family always made it from scratch and I might be biased but ours is pretty darn good. If your table is like most of those celebrating, you will probably have some form of this tangy sauce on your table… which means you will probably have a bunch leftover!
So if you don't want to make the dreaded day-after-Thanksgiving-sandwich shmeared with cranberry sauce… here's a healthy and fun way to use up the remaining sauce! When Chobani  approached me to participate in their #madewithChobani series for Thanksgiving, I was inspired to add yogurt (I used Chobani Non-Fat Plain Greek Yogurt) , more orange juice and some sugar to make this beautiful homemade Cranberry Frozen Yogurt the next day. Layer them for a stunning visual design or just pour them straight in if you can't wait! In case you're wondering, I used these popsicle molds from Amazon which worked very well – they even came with a package of wooden sticks!

Cranberry Frozen Yogurt Popsicles - Thanksgiving Leftovers!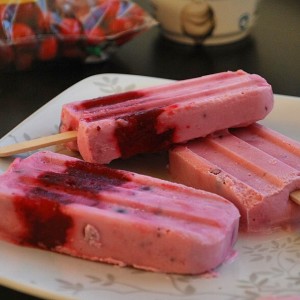 Healthy and gorgeous treats made with yogurt and leftover Thanksgiving cranberry sauce. Fun and tasty!
Ingredients
2 cups greek yogurt (like Chobani plain)
½ - ¾ cup leftover cranberry sauce
Juice of half an orange
¼ cup sugar
Pinch of salt
Instructions
Combine all the ingredients.
Taste and add more sugar if needed.
Freeze for 2-4 hours in popsicle molds, then enjoy!