Happy New Year, y'all! 2014 was a great year and I hope you are all as excited as I am for all the potential and possibility of 2015. At the beginning of each year our thoughts often turn inwards – I know mine do. I like to ask myself the following two questions, especially in times of transition:
a) Am I a better person now than I was a year ago?
b) How can I improve myself?
Your answers can take many shapes – as do mine – but often they can be in taking better care of yourself. I believe strongly that proper self-care is essential in order to be happy and in turn share that happiness with others! So, what better place to start than taking care of our bodies? That's where this Persian Cantaloupe Smoothie comes in… refreshing, delicious and healthy. A liquid treat that's as good to your taste buds as it is to your body.
Cantaloupes, which are known as muskmelons or even Persian melons, are chock-full of Vitamins A, C and beta-carotene which help arm your body against any number of ailments. The best part, is there are no weird powders, flavorings, or artificial ingredients in this smoothie.
The mouth-watering sweetness of the cantaloupe is highlighted by the simple addition of rosewater, honey and a touch of salt. So you make one of these smoothies, marvel at the beautiful color, flavor and the good you're doing for yourself!
Cheers to a great 2015!
A refreshing and healthy Persian cantaloupe smoothie made with cantaloupe, rosewater and honey!
Persian Cantaloupe Smoothie - Paloudeh
Prep time:
Cook time:
Total time: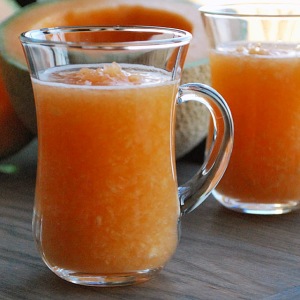 A refreshing and healthy smoothie made with cantaloupe, rosewater and honey!
Ingredients
1 medium cantaloupe, chilled
2-5 ice cubes
1 tablespoon honey (more or less to taste)
1 teaspoon rosewater (optional)
¼ teaspoon salt
Instructions
Slice your cantaloupe into large chunks and place in the blender.
Add the ice, rosewater, salt and ½ tablespoon honey.
Blend for 10-15 seconds until it's a chunky consistency - the cantaloupe will release its water during this process.
Taste and add more honey if needed.
Pour into a glass and enjoy!