Sometimes I feel like I've tried it all. Foams. Molecular gastronomy. A hundred beet salads. A million sliders. But then once in a (beautiful) blue moon, you try something so simple but so new to you, that it slaps you in the face and leaves you thinking 'why haven't I thought of this before?!'.

That's exactly what happened when I was having dinner at Anejo recently. As an avocado-holic,  I didn't bat an eyelash when ordering a trio of guacamole for myself and a friend. I've never said no to avocados! One of the three varieties of guacamole came dressed with pomegranate arils…and it was magical. There were a number of other toppings but the juicy red jewels outshined them all. I was inspired by Anejo's dish to create my own version.
The creaminess of the avocado against the crunch then burst of the pomegranate is a superb combination. It's a simple way to brighten up your guac both in flavor and in color! By the way, is anybody else an avocado-holic like me?
So dive in with some chips, veggies or just face first. It's ok – I won't judge. I'll be busy doing the same!

Pomegranate Guacamole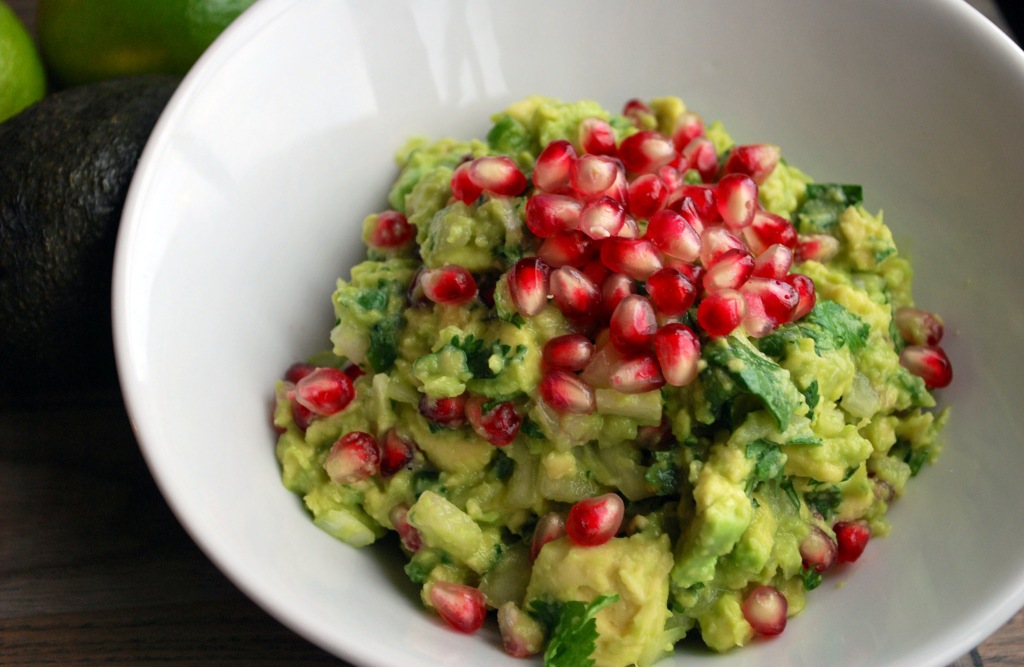 A bright guacamole studded with pomegranate - adding both color, flavor and crunch!
Ingredients
3 avocados, cut into large chunks
1 small white onion, diced
1 small bunch cilantro, diced
1 jalapeno, diced (seeds in if you like more heat)
1 pomegranate, seeded
½ - 1 lime (juiced) to taste
½ teaspoon salt - or more to taste
Instructions
Using the back of a wooden spoon or a mortar and pestle if you have one, grind up ⅓ of your diced onion, cilantro and jalapeno with the salt to create a juicy paste.
Add in the avocado, lime juice and remaining onion, cilantro and jalapeno. Mash with a fork until it's chunky and creamy. Taste and salt if needed.
Fold in ⅔ of the pomegranate arils.
Garnish with remaining pomegranate and serve.