After my recent trip to the King Arthur Flour headquarters, I've been a baking maniac, going through my bounty of spoils from the store there! While there, I picked up high-gluten flour on a whim – and decided to finally take the (scary) plunge of making bagels. Having lived in New York City for the last 7 years, I've had my share of bagels – and these are not only darn good, but relatively easy to make!
Poppyseed Bagels
Prep time:
Cook time:
Total time: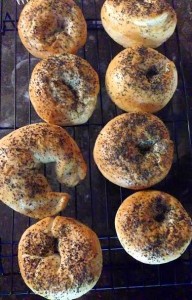 Fresh baked bagels right from your oven... top them with whatever you please from onion to poppyseed to flake salt!
Ingredients
3.5 cups high-gluten flour
2 teaspoons active dry yeast
1.5 tablespoons sugar
1.5 teaspoons salt
Large pot filled with water + 1 tablespoon sugar
1 egg white + splash of water (for egg wash)
Poppyseeds, flake salt, sesame seeds, dried onions, etc
Instructions
Activate your yeast by adding it along with 1.5 tablespoons of sugar to a bowl with 0.5 cups warm water. Let it sit for a few minutes then stir until it all dissolves.
While you're waiting on the yeast, combine the flour and salt in a large mixing bowl. Pour the yeast mixture into the flour mixture once it's fully activated.
Add about 0.75-1.25 cups of warm water to the the dough until it comes together - you want it to be moist and elastic. Transfer the dough to a floured surface and knead for about 10 minutes (until your elbows ache or until the dough is nice and springy... whichever comes first).
Transfer the dough to a buttered or oiled bowl and let it rise (cover with a damp paper towel) until doubled in bulk - about an hour.
Think of a bad traffic jam then punch down your dough. While your dough recovers (10 mins is good) from the beating, preheat your oven to 425 F (or 460 if your oven is like mine and lies about the temperature!) and get your water bath going.
Divide your dough into 8 equal portions and roll each portion into little logs. For each dough-log, bring the ends together and pinch them twice upon themselves to create a nice seal. You now have 8 little raw bagels! Cover them with a damp paper towel and let them rest for another 10 minutes - these bagels are tired!
Once all your bagels have paid a visit to the water bath, return them to the baking sheet. Brush each one with your egg-white-wash and then douse with poppyseeds. I like a lot. In fact, I should serve each of these bagels with a toothpick - but I digress.
Bath time. So that your bagels don't get lonely, plunk them two at a time into your simmering water bath for 1-2 minutes per side. The longer they 'bathe' the chewier the resulting bagels will be. I like mine chewy so did full 2 minutes each side!
Put your bagels into your hot oven for 20-25 minutes - they're ready when they have reached a nice golden hue.
Let cool on a wire rack, then enjoy!