In today's culture of instant gratification (apparently now Amazon knows when I want something before I even do), sometimes toiling over something by hand is the most soul satisfying activity of all.
This was my 4th attempt to make Sohan Asali over the past 3 years. I tried twice in 2012 and gave up in frustration when the candies came out a crystallized mess. Fast forward to last week – another nailed it scene – crystallized chunks of sugar and almond. Tragedy! That's where my mom came in – she suggested adding lemon or lime juice (a form of acid!) which stops the crystallization…magic. I now have a small yet fast disappearing mountain of beautiful candy. Mom knows best!
Sohan Asali (Persian Honey Saffron Brittle)I've always been drawn in by the deep and rich color of Sohan Asali – the only thing I can compare it to is a deep amber, or our own Persian tea. Doesn't hurt that it's addictively tasty!

Recipe: Sohan Asali (Persian Honey Saffron Brittle)
Prep time:
Cook time:
Total time: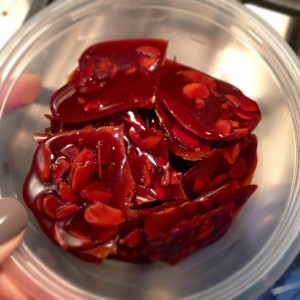 A Persian candy brittle made with honey, saffron, rosewater and pistachio / almond slivers.
Ingredients
1 cup granulated sugar
½ cup almond slices or slivers
3 tablespoons butter
2 tablespoons honey
1 tablespoon rose water
1 teaspoon saffron dissolved in 2 tablespoons hot water
Juice of half a lemon
Crushed pistachio for garnish (optional)
Instructions
Prepare two cookie sheets by lining them with wax paper and placing them right by your stove. Combine the sugar, butter and honey and melt over medium low heat. Stir for about 5 minutes until melted.
Add the rosewater carefully and stir for another minute or so. The mix should be fragrant and becoming a light caramel color by now.
Add in the almonds and stir until coated. Your mixture should be thickening a bit now.
Carefully add in the saffron water and lemon juice. The mixture may boil a bit so watch your hands. Once you add the saffron, stir until it's all incorporated. The mix will turn an incredibly rich color.
Take a medium spoon and quickly spoon dollops of the mixture on your cookie sheet, taking care not to drip (because the drips will cause some nasty smoke…not that I would know). Leave an inch between each candy as they will spread. If you have a second pair of hands, here is where they can follow you and sprinkle a bit of pistachio onto each candy.
Let the candies dry for about an hour. They'll have a smooth, glassy sheen when done. Serve with tea and enjoy! You can store remaining candies in an air-tight container.