"Hey, want to come over for some hummus?" If I had a dime for every time I've said this to somebody over the last month, I'd have about two bucks!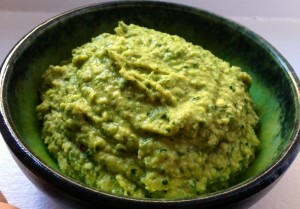 Cilantro Jalapeno Hummus
I've always loved hummus, but since getting my very own (very cute, see below) food processor, I make it at least once a week. Spicy hummus, lime hummus, avocado hummus and plain old hummus – I'm obsessed with making and eating it. It's so simple to make, and possibilities for experimenting with the recipe are endless (endless fun!).
The one recipe I kept coming back to in an effort to create was this amazing cilantro-jalapeno hummus I used to buy at Trader Joe's in California all the time. It's spicy, fresh and tangy. I'm proud to say that after many tasting sessions, I've created a version that I just love! The best part? It takes about 5 minutes from start to scooping it into your mouth with a pita chip.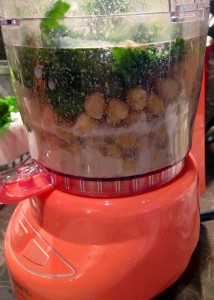 Cilantro Jalapeno Hummus ready to blend, like a sand-sculpture, only delicious.
Cilantro Jalapeno Hummus
Prep time:
Cook time:
Total time: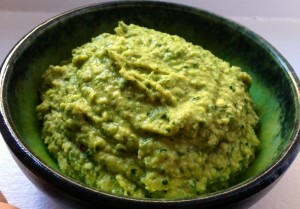 Creamy, spicy and tangy Cilantro Jalapeno Hummus - a perfect knock off of the Trader Joe's classic!
Ingredients
1 - 15 oz can garbanzo beans, also known as chick peas
⅓ cup water from the beans
1.5 tablespoons tahini - fairly readily available at most supermarkets
2 limes (or lemons if you like it less tangy)
2 small cloves of garlic, diced
1-2 jalapeno peppers, roughly chopped (1 for mildly spicy, 2 for a nice kick)
⅓ cup chopped cilantro
1 teaspoon salt
½ teaspoon pepper
Red pepper flakes (optional, if you like it extra spicy)
Instructions
Pulse the tahini paste together with the juice of the limes.
Drain the water off the beans into a cup. Rinse and drain the beans.
Add all the ingredients into the food processor.
Pulse/blend until smooth, about 3-5 minutes. Dip a spoon in periodically to taste and adjust seasoning. *Note: You can add about a tablespoon or two of olive oil to make your hummus creamier but I find that I never need it.
Serve with the chip or veggie of your choice... and enjoy!