I've been going to César in Berkeley for years and always loved them for their Spanish tapas, great location and amazing cocktails. So when I had the chance to try out sister restaurant Bar César this week – I was excited!
I was pleasantly surprised to see that Bar César has a personality and charm all it's own. The menu is more Mediterranean than the Berkeley sibling and overall more accessible. They have a nice happy hour from 3-6 and 9 onwards during the week with discounted bar bites and drinks (sangria!!!).
The fish tacos were appropriately drowning in cole slaw, and the mini chorizo burger (yes, it's a chorizo patty) was delicious but the real stand out were the fried olives. Deep fried olives – crunchy outside, juicy inside and oh-so-salty. I'm shocked I haven't seen these elsewhere – Weather Up, are you listening?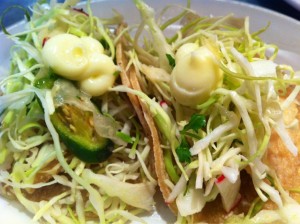 Bar Cesar Fish Tacos (mahi mahi, cole slaw, aioli and jalapenos)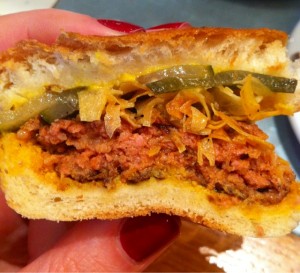 Bar Cesar Mini Chorizo Burger ( w/ fried sweet potato shavings and pickles)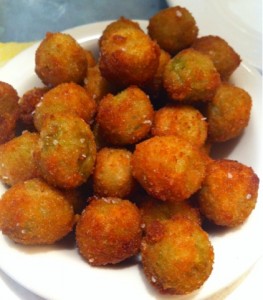 Bar Cesar Fried Olives … do NOT miss these!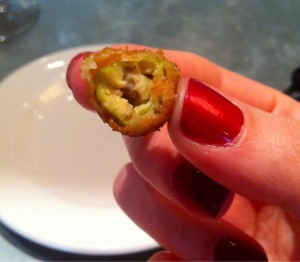 Bar Cesar Fried Olive – my mouth is watering already!
—
Go for the fried olives, stay for the sangria!
Bar César
4039 Piedmont Avenue (Btwn 40th St and Glen Ave)
Oakland, CA 94611
www.barcesar.com