Bathtub gin used to refer to homemade alcohol during the prohibition, but today Bathtub Gin is one of the coolest spots in downtown New York City. What exactly is today's Bathtub Gin? Somewhere between speakeasy – supper club – brunch joint – coffee shop, I just like to think of it as the gift that keeps giving.
Most of the cocktails are gin-based and well, glorious. They have some interesting custom cocktails but they really nail the classics – negronis are always spot-on and I had one of the best Pimms Cups ever here.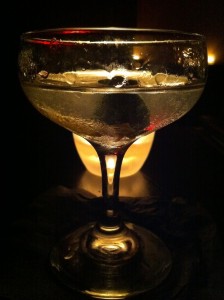 Bathtub Gin cocktail
Since they opened about a year ago, they've branched out to entertainment (burlesque shows every 3rd Sunday of the month),
dinner
and now brunch. And the food is surprisingly good. For 20$ their prix fixe brunch is reasonable and includes a bloody mary or mimosa. They bring an adorable basket of mini-pastries to the table with some sort of sweetened whipped-butter and raspberry jam. My lovely friend raved about her omelette and my kobe beef sliders were very good – they may have been perfect if it were not for the lame white bun.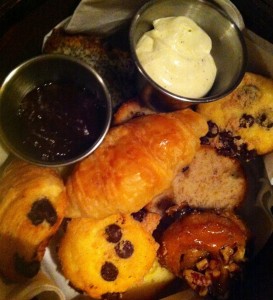 Bathtub Gin brunch – mini croissants, muffins and pain au chocolat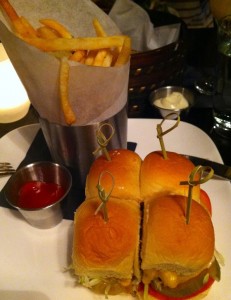 Bathtub Gin brunch – kobe beef sliders and garlic fries
—
I'm so glad that Bathtub Gin is getting one thing right at a time before moving to the next – they are doing a fabulous job. I will keep coming back for cocktails and now the food also!
Bathtub Gin
132 9th Avenue, btwn 18th and 19th (through the secret door in Stone Street Coffee Company)
New York, NY 10011