I love Danny Macaroons… beautiful little mountains of coconut that are small enough to almost be bite-sized. Warning: extreme close-ups ahead: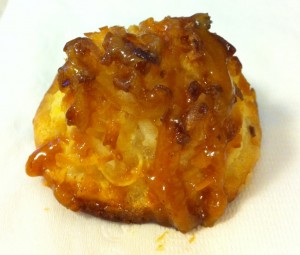 Danny Macaroons Salted Caramel Macaroon


Clarification: these are macaroons, not to be confused with macarons, the French meringue cookies that have surpassed cupcakes in trendiness in the past 2 years.


A little backstory: I started eating Danny Macaroons at the coffee shop I stop at every morning (Piada), without knowing anything about them. I soon became addicted and was picking up one every morning with my coffee. One day, there were none left. After asking the girl behind the counter what was up, she said the macaroons were handmade daily by a dude up in Harlem, so on the off-day when he was away or hadn't baked enough, they simply ran out. I was upset about not having a macaroon that day with my coffee, but intrigued – I love when food has a story. That weekend, I was channel-surfing and happened to catch a local NYC food program (Food Curated) and lo-and-behold, they had a segment about Dan Cohen and his macaroon business. 


The beauty of Danny Macaroons? Not only are they delicious, but you can taste the simplicity. There aren't 19,000 ingredients in them and they haven't been mass-produced so that they look pretty but taste bland. Quite the opposite – they look like they were hand-made with care – and they are! The salted caramel is my favorite – I just can't get away from loving that salty-sweet combination.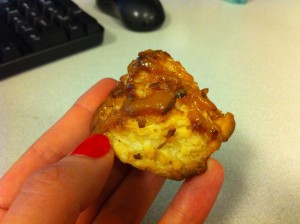 Danny Macaroons: Open real wide and they are bite-sized.


Danny Macaroons sells a number of interesting flavor varieties, including chocolate, roasted almond, and even Baileys (!) that you can actually order online via his website. 


P.S. Bonus: Danny Macaroons are gluten free.
— 



Danny Macaroons are available by order online or at a number of New York coffee-shops and restaurants, listed below (taken from the Danny Macaroons Facebook page)


• Bergdorf Goodman, BAR 5F – 5th Floor (Midtown)
• Smorgasburg/Brooklyn Flea (One Hanson Place, Brooklyn)
• Gimme! Coffee (NoLita – Mott/Spring)
• RBC NYC (TriBeCa – Worth/Church)
• Moomah (TriBeCa – Laight/Hudson)
• Sons of Essex (Lower East Side)
• 88 Orchard (Lower East Side)
• Barnyard Cheese shop (Alphabet City – 9th/C)
• Sicaffe (UES – 70th/Lex)
• Piada (Midtown East – 53rd/Lex)
• Benvenuto (23rd St./Bway)
• Lula Bean (Williamsburg)
• The Love Cafe (115th/Pleasant Ave.)
• Lazar's Chocolate – Great Neck
• Lazar's Chocolate – Wheatley Plaza)
• McNally Jackson Cafe (SoHo – Prince/Bway)
• Peace and Love Cafe (TriBeCa – Greenwich Ave)
• The PIT (Peoples Improv Theater, 24th St./Lex)