7/10
—
Blaue Gans is an Austro-German 'wirtshaus' in Tribeca that also doubles as a museum to vintage art posters!? Who knew! Blaue Gans is delightfuly unlike most other restaurants in Tribeca – unadorned food that brings new meaning to the expression 'stick to your ribs'. I was born in Austria and I've never been (back) so for me this was a little trip to the birth-land.
The space itself is fabulous – one large room, vaulted ceiling and walls plastered with vintage movie and art posters.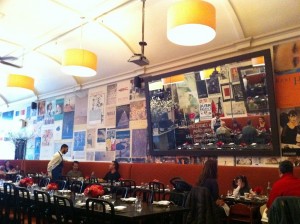 Now, to the food. Vegetarians need not apply. The menu is very sausage-, schnitzel- and seafood-heavy. We tried the Wiener Schnitzel (a pounded, battered and fried piece of veal) that came with a refreshing potato salad. Next time I go back I'm ordering a side of just the potato salad – anybody else as obsessed with dill as I am will also love it.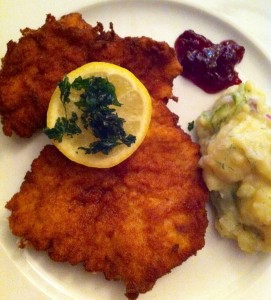 I may or may not have had to crop out the chunk I took out of the potato salad.
I had the Jager Schnitzel (pounded and pan seared veal with spatzle in a creamy sauce) – an extremely rich dish. Spatzle is not a very common menu item and I love it, so I make sure to order it whenever I can. The Bar Room at The Modern serves an amazingly delicate version of spatzle and each piece is the size of a pea, but I digress. My schnitzel was perfectly cooked and the spatzle was tasty, the only thing I would have changed was the amount of creamy sauce in the dish, it was a bit overwhelming.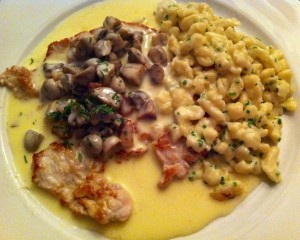 Somebody throw that schnitzel a life vest.
—
A really neat restaurant in a great location. They have a full bar with a great selection of beers – I can imagine this is a great spot for dinner. I will definitely be going back, especially to try their pretzels!
Blaue Gans
139 Duane St
New York, NY 10013 – map
http://kg-ny.com/blaue-gans