9/10
—
I've been eagerly waiting to try the famous French Canadian dish, poutine, for quite some time now. Two of my close friends are Canadian and they said many times over how much they love poutine, so naturally I was curious. Thanks to my gracious friend and her family, I was able to visit Montreal and finally try poutine this week.
Without getting too sentimental, I truly believe that a people's food is really a window into their culture, and going to La Banquise (said to be the best poutine in Montreal) was an awesome sneak peek! There are many definitions of poutine but it generally seems to be comprised of french fries, cheese curds and some sort of gravy or sauce. The cheese curds must be fresh (not more than a day old) and the gravy is typically made of some sort of stock and pepper. Right before serving, the cold curds are added and the hot gravy is poured over the dish, to heat up the cheese but not melt it. This is the result: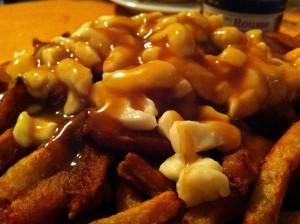 There she is, in all her glory.
La Banquise has 25+ types of poutine, but we got the classic. Salty crunchy fries, squeaky cheese and the warm gravy. While I don't think I'll be suffering withdrawal symptoms from poutine any time soon, I can definitely see how this dish is a favorite with people after a night of drinking or a day of skiing. Salt, carbs and fat… the basic elements of a good dish in my book.
Even though I didn't try the other types of poutine, I'm giving La Banquise 9 stars – there was a line down the street to get in and there seemed to be a general consensus by locals that this was the place to try. I would definitely come back to try the 'Poutine Kamikaze' (merguez sausages, hot peppers and tobasco).
—
La Banquise
994, Rachel Est
Montreal, QC
www.restolabanquise.com