Ahu Talks is a series of conversations with people who have interesting things to say about food.
Two weekends back, I had the great pleasure of spending the afternoon with Greg; a native New Yorker, firefighter with the FDNY, member of the Air National Guard, excellent cook and an all-around interesting person. The mission of the day was to make an Italian dish called 'Braciola' (pronounced bra-zhul according to the Sicilian dialect) – so the first stop was at Faicco's, an Italian pork shop store in the West Village.
Ahu: Greg, what got you into cooking?
Greg: Growing up I always saw my dad baking, which is what got me started in the kitchen.
Faicco's is wall-to-wall with different types of meat, sausage and Italian prepared goods, and while the space is small it is chock full of people, specialty products and of course, meat. While we waited for our four braciolas to be packaged, we snacked on rice balls, a divine creation sent from the heavens. Creamy rice and parmesan rolled into a ball and then deep fried.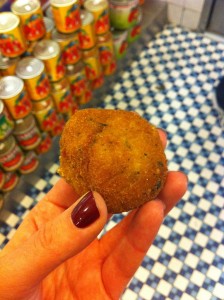 Holy shit. The rice ball is so good it deserves profanity.
Ahu: Any cooking tips or secrets you care to share?
Greg: Freeze your onions before you chop them, and you won't cry.
While waiting at the counter, we spotted some prosciutto bread… yes that's right, prosciutto bread. Buns with chopped up prosciutto and cheese baked right in. We grabbed a few, they look like plain bread in the display but flip them over and you can see the entrance to a mini den of lard.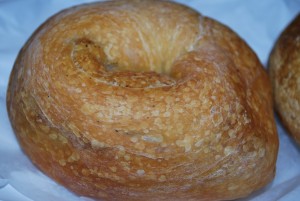 Normal bread, right? Wrong!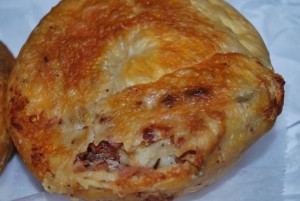 Salty goodness.

Ahu: What was your most memorable meal?
Greg: Thanksgiving dinner last year, which I had a day after Thanksgiving. I had just come back from a 3 month deployment in Africa and we had a deep-fried turkey.
Once we got back to the kitchen (thank you to our host for volunteering her kitchen!), Greg unwrapped the meat and explained how he was going to prepare the dinner. The braciola would be seared on all sides, then simmered in a tomato sauce (that he made himself) and served over pasta. Our braciola was pork tenderloin rolled with prosciutto and cheese: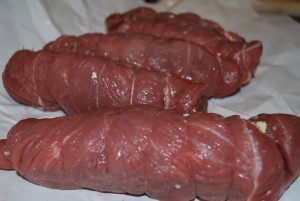 I know what you're thinking, you perv.
Ahu: Is there anything you won't eat?
Greg: I'm not big on seafood.
The sauce, which takes about 2 hours to simmer, smelled amazing. It's one of those slow-and-low dishes, but the wait was well worth it.
Ahu: Greg, what's your favorite New York burger?
Greg: JG Mellon. Also, Burger Joint (in the Parker Meridien). 
The end result (which sadly, I don't have a picture of due to the fact that we dove right in to the food) was delicious. It's a hearty meal, so much so that I couldn't finish my portion (Greg served one piece per person). A perfect meal for a bunch of guys who fight fires!
I really enjoyed my afternoon watching and learning from Greg. As a veteran firefighter and a member of the military, he has lived through some things most people will never experience, yet is still light-hearted and upbeat. His words are as carefully chosen as his food, which he takes great pleasure in preparing for others. Thank you Greg for the wonderful experience and also to our excellent host!