Hello there dear readers! Please step into my world for a bit while I take you on a little virtual tour of my version of summer. I can sum up what summer is like for me pretty much in this short list:
Stay indoors as much as possible
Drink lots of icy beverages (lemonade! spritzers! sparkling water!)
Gravitate towards air conditioning like a moth towards light
Grumble / complain / bemoan – gratuitously – about the heat / humidity / life in general
Eat lots of cool and refreshing food like ice cream and this simple summer gazpacho… minimal work, minimal heat
Repeat items 1-5 as needed!
Jokes aside, the gazpacho recipe I'm sharing with you today is simple, healthy (vegan, vegetarian and bursting with lycopene, vitamins a, c, and folic acid!) and delicious. The best part – you don't need to turn on the oven, the stove or the microwave! Just grab your handy stick blender and blend away!
Because it's a simple, cold dish – this gazpacho works well with the freshest, most seasonal and flavorful ingredients you can find. So spend the time to find locally grown, organic vegetables. It will pay off in dividends when you dive head first into this lush, vibrant dish!
So make a big batch of this gazpacho, serve with a salad, some crusty bread, or if you're like me – a pint of ice cream! And cool off while being good to both your taste buds and your body.

Simple Summer Gazpacho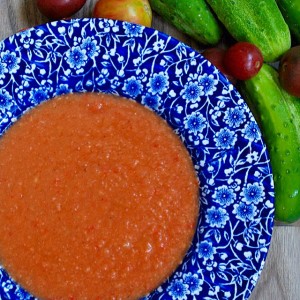 Simple summer gazpacho - a light and refreshing soup that will fill you up and cool you down! Make this vegan, vegetarian soup with the freshest tomatoes, cucumbers and vegetables you can find.
Ingredients
3 lb ripe tomatoes (Heirloom), peeled and seeded
3-4 Persian or Kirby Cucumbers, peeled and seeded
1 bell pepper, cored and seeded
Inner dough of a 4-inch chunk of baguette (I like sourdough)
¼ yellow onion, diced
12 ounces of tomato juice
1 - 1½ clove garlic, minced
4 tablespoons sherry vinegar
2 tablespoons olive oil
1 teaspoon piment d'espelette or chili flakes
¼ teaspoon ground cumin
Salt and pepper to taste
Instructions
Roughly chop the cucumbers, tomatoes and bell peppers
Combine vegetables in a deep pot with remaining ingredients
Using an immersion blender, puree ingredients until smooth or it reaches the desired consistency
Taste and adjust seasoning
Refrigerate at least 4 hours or ideally overnight before serving
Garnish with a squeeze of lemon (optional) and serve!