I bring you… No Knead Bread. Yes – that's right. Make your own crusty, crunchy, delicious bread – without kneading or any other fancy techniques involved. I see your faces – that's the same reaction I get from everybody else – and to be honest before trying this recipe, the thought of making my own bread never even crossed my mind!
And then…. I tried it. There is something so beautiful about the yeast magically bubbling throughout the dough and then the smell of fresh bread winding throughout your house. Once you make your own bread, it's hard to go back to those pedestrian grocery store loaves. The taste and smell are amazing, no worrying about chemicals or funny ingredients and it saves money… why wouldn't you make your own bread!?
Adapted from Jim Lahey's famous recipe, the beauty of this recipe is the yeast does all the work for you. You simply have to mix your dough ingredients, let it sit overnight, give it a couple flops, then pop it into a screaming hot oven the next day. Fresh bread, ready to eat. The hardest part is waiting for it to cool for an hour!
The flavor is somewhere between a basic artisan loaf and a sourdough – perfect basic flavor that can be used for sandwiches, spreads, or just eating fresh out of the oven. You can add many things to flavor the dough itself, but let's stick to the basics for now.
No Knead Bread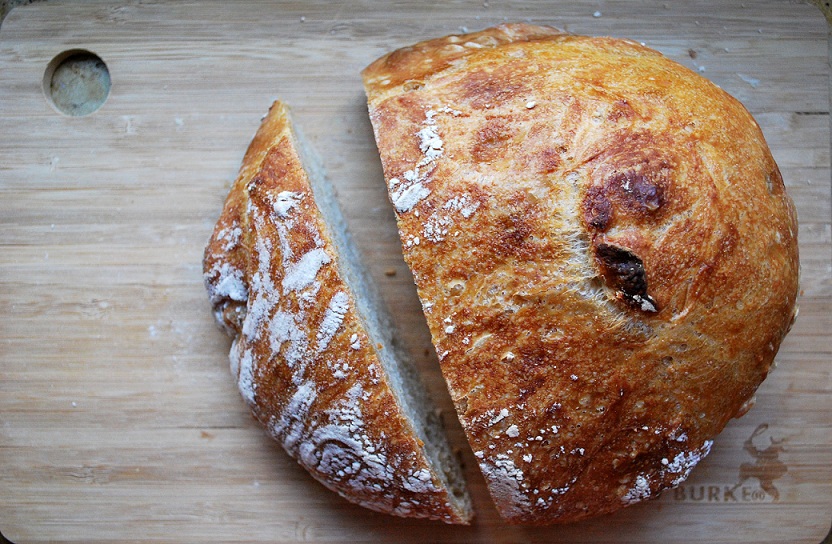 Adapted from Jim Lahey's famous No Knead Bread recipe - this recipe will have you eating delicious, crusty, fresh bread straight from your own oven.
Ingredients
3 cups of all purpose flour (I prefer King Arthur Flour)
1½ - 1⅝ cup of water
1 teaspoon active dry yeast
1.25 teaspoon salt
Instructions
Mix all your ingredients together in a large bowl (you'll need the extra space) until it's a sludgy, slurry like texture.
Cover and let sit in a dark, warm (70 F or so) place for 12-14 hours. ***If you start your dough at around 5pm, you'll have bread ready to eat for lunch the next day.
Your dough will be bubbly and sticky. Turn it onto a generously floured surface and dust with more flour and cover for another 15 minutes.
Try to form your dough into a ball and turn it out onto lightly floured kitchen towel and cover with another lightly floured towel. ***Note: mine is usually more blobular than ball-like at this stage, but fret not. It will come out just fine!
Your dough needs to rest for 2 hours. About 90 minutes in, preheat your oven to 450F or 500 F (as hot as it goes) with a dutch oven inside (leave the lid off).
Once your oven is hot and the dough has rested, remove the dutch oven with oven mitts and carefully place your dough into it - or more like flop it in like I do.
With your mitts, give your dutch oven a jiggle to allow the dough to distribute, cover with the lid and place back in the oven.
Cook, covered, for 35 minutes.
Remove the lid, and cook for another 25-30 minutes until golden brown.
Remove from the oven and LET IT COOL on a wire rack for another 45 mins - 1 hour before slicing into it. This is very important, if you slice too soon it will seem raw inside.
If you don't plan to finish the bread within a day, slice it up, wrap tightly and freeze.
Other posts in my The Basics series: Quinoa.