Here comes April! A long stretch of 5-day work weeks that seems unending. If it weren't for the birds chirping and flowers blossoming it would be a looooong month. So how do we power through the month? Carbs of course. And I'm not just talking about those that come in the form of post-Easter-candy-sales (although those are also awesome). I'm talking freshly baked, soft and chewy, delicately flavored Matcha Cookies. Yep – it's a tea cookie – with tea INSIDE of it. It's a cookie inception! 🙂
I debated whether to call these Matcha Cookies or Green Tea Cookies – since matcha is just the powder version of a kind of green tea. But if a rose is a rose by any other name, then  so are these cookies. What I love about them is that they're not too sweet and the matcha flavor is so unique, making this a very delicate and special cookie. Not to mention the awesome color! Creaming the butter and adding the baking powder makes all the difference and produces a fluffy, soft, chewy cookie which I love. You can bake them longer for a crispier cookie but I think a pillowy cookie just goes so well with a steaming cup of tea.
So what are you waiting for? I'd highly recommend you give this unique cookie a try – make the batter tonight and you'll have cookies tomorrow! Plus, you need something to eat for dessert after a delicious dinner of 30-Minute Vegetarian Soba Noodle Soup. 🙂
Matcha cookies have the delicate flavor and color of green tea. These soft, pillowy and chewy green tea cookies are perfect with tea.
Matcha Cookies
Nutrition Information
Serving size:

1 cookie

Calories:

87
Fat:

4

Carbohydrates:

11

Sugar:

7

Sodium:

118

Protein:

1
Prep time:
Cook time:
Total time: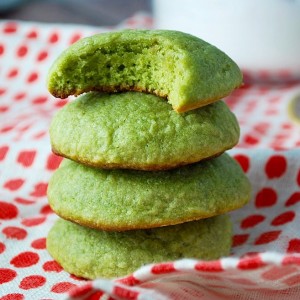 Matcha cookies have the delicate flavor and color of green tea. These soft, pillowy and chewy green tea cookies are perfect with tea.
Ingredients
1 stick butter, softened
⅞ cup of granulated sugar
1 cup + 2 tablespoons all-purpose flour
2 eggs
1¼ tablespoons culinary grade matcha powder
1 teaspoon baking powder
Pinch of salt
Instructions
Cream together the butter and sugar in a large mixing bowl - it should be creamy colored and airy. A hand blender or stand mixer works well for this. This helps the cookie become fluffy and chewy.
Gently incorporate the eggs to the butter mixture one at a time.
In a separate bowl, sift together all the dry ingredients.
Add the dry ingredients to the wet by adding a little at a time and folding or gently mixing the batter together. Keep going until you've incorporated all the remaining flour mixture. The dough should be a beautiful green color.
Chill the dough for at least an hour - up to overnight. The longer the better!
Preheat your oven to 325 F.
Roll the dough into balls the size of ping pong balls and place them on a non-stick cookie sheet.
Bake them for 12-15 minutes until the bottoms just start to become golden brown and the cookie no longer looks wet in the middle. Note: you can always bake them at 350 F for a less moist, fluffy cookie. It will bake faster by about 2-4 minutes 350 F so watch them closely.
Remove and let cool on a rack and enjoy!
Notes
Make sure you get
culinary grade matcha powder
. You should be able to find this in Asian or natural grocers - also available
online
.
For more intense matcha flavor and color, add an extra ¼ - ½ tablespoon matcha powder.
Want to stay connected & up to date with Ahu Eats? Don't forget to follow on 
Facebook
, 
Instagram
, & 
Pinterest
!