Quinoa may be the latest super food craze – but surprise – it's also really delicious! This dish is a riff on the traditional Middle Eastern tabbouleh. This version substitutes quinoa as the main grain instead of the more classic bulgur or couscous, and the light fluffy quinoa grains work perfectly. This is my favorite kind of dish – healthy, full of flavor and very simple to make.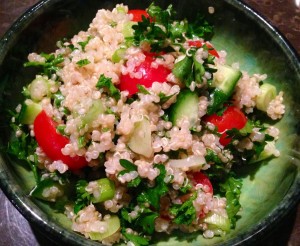 Quinoa Tabbouleh
Quinoa Tabbouleh
Prep time:
Cook time:
Total time: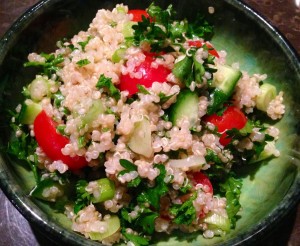 Easy, healthy and delicious! Tart, tasty and colorful, this vegan salad of quinoa tabbouleh will become a staple on your table.
Ingredients
1 cup dry quinoa, rinsed well
1 bunch parsley, chopped
1 pint cherry tomatoes, halved
3 scallions, finely chopped
3 Persian cucumbers, quartered and diced
⅓ cup of extra virgin olive oil
Juice of two limes
1 clove of garlic, minced
Salt & Pepper
Instructions
Combine the dry quinoa with 1⅓ cup of water and 1 teaspoon of salt in a small pot. Bring the quinoa to a boil over medium heat. Once the quinoa starts to boil, cover it and simmer it for another 10 minutes (until the quinoa is soft).
Remove the quinoa from the heat and let it sit for 5 minutes. Then, spread it out onto a baking sheet with a fork - this helps fluff it up and cool it down quickly.
Combine the garlic, olive oil and lime juice in a bowl. Add salt and pepper to taste.
Add the cooled down quinoa to a large bowl and toss with the dressing.
Add all the herbs and vegetables to the quinoa and toss. Adjust seasoning as needed. Enjoy immediately or later on when all the flavors have really melded!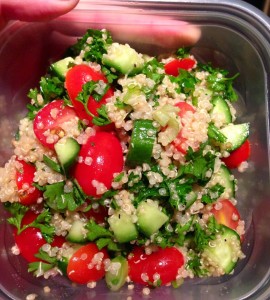 Quinoa Tabbouleh