Cardamom may very well be my favorite spice. Often used in eastern cuisine, it has a rich, warm flavor and is related to ginger. It is grown in pods and boasts many health benefits including improving digestion, lowering cholesterol and curing the hiccups (it's an anti-spasmodic!).
You typically see cardamom sold ground, but when Merit Trade sent me some of their beautiful whole, green cardamom pods, I was really excited to use it in its original form.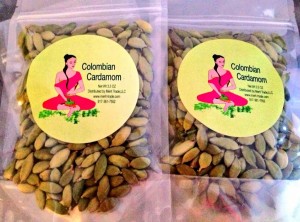 Merit Trade's Colombian Cardamom
When I first came to New York City, I was friends with a group of Colombians and they introduced me to cardamom coffee (cafe cardamomo), which is coffee with cardamom infused milk. It's like your normal coffee took on a beautiful earthy spice to it and I was immediately hooked. I figured this would be the perfect way to use my Colombian cardamom! This recipe is for the cardamom coffee but you could really add the cardamom-infused milk to many things (coffee, tea,  etc).
I am happy to be giving away two bags of Merit Trade's Colombian Cardamom to two random readers! To enter simply comment on this post with your favorite way to use cardamom or how you would use it. I will select two winners at random on Sunday, November 24th (I can only ship to folks in the US, sorry international friends!). Please make sure I have a way to get in touch with you – either a link to your blog or email.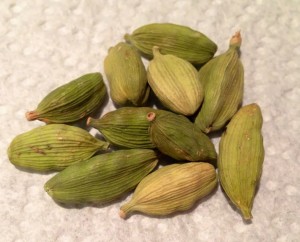 Green Cardamom Pods
Recipe: Cardamom Coffee - and a giveaway!
Prep time:
Cook time:
Total time: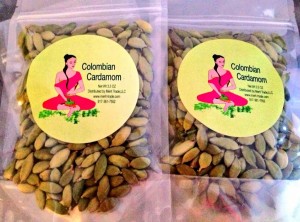 Take your coffee to the next level with cardamom infused milk. Earthy, deep and complex - your coffee will never smell the same!
Ingredients
Milk
1 cardamom pod or a pinch of ground cardamom per cup of coffee
Coffee (anything works - French press, drip, instant)
Sugar (if desired)
Instructions
Start by beginning to prepare your coffee in your preferred method.
Take a cardamom pod and crack it open. I used the back of a wooden spoon to give it a 'smack'.
Remove the seeds from the pod (it should smell amazing) and give them a light smush. This will encourage the flavor to come out.
Drop the cardamom seeds into a small sauce pot with some milk (I use about ⅓ cup of 1% cows milk). Simmer for about 5 minutes to let the flavors infuse.
Pour the milk into your coffee mug through a strainer, then add the coffee and sugar to it. Enjoy!