Hard to believe it, but I like 
Piada
 so much that I've actually put off writing this for a year all because I was worried I wouldn't do them justice…then they made one of my bucket list items come true, so I couldn't wait any longer!
Piada's motto is 'Simply good.' and they are just that. Every thing is simple and fantastic – the freshest produce, meat and coffee (Danesi) imported from Italy, baked goods from local businesses like
Danny Macaroons
 and don't forget the friendly and fast service.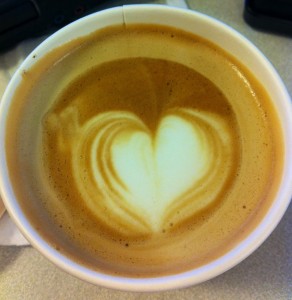 Piada's Danesi cappuccino, made with love.
I started coming to Piada for their fabulous coffee – smooth, tasty and foam so thick it could spackle the walls of your house. As it turns out – their food is also great! Love the salads (huge) and soup (lots of people come just for the minestrone) but their specialty are the piada sandwiches. According to wiki, a piada (or piadina), is basically an Italian flatbread sandwich that is served hot with some sort of combo of Italian meat/cheese/veggie/sauce inside. They make a number of different types of Piadas including a daily and weekly special, but my hands-down favorite is off the regular menu and is called The Strada – salami, pecorino and balsamic vinegar.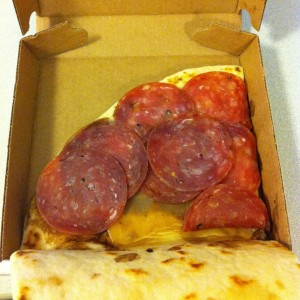 Inside Piada's Strada – salami, pecorino and balsamic
I always get the half piada – even though they look thin they are super filling.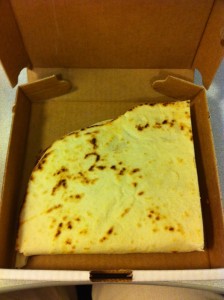 Piada half sandwich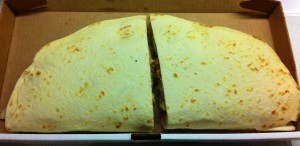 Regular Piada sandwich: ginormous
Just when I couldn't like Piada and the lovely folks there more, they named a weekly special after me! Long story short, a few months ago I tweeted this, and a week later I walk in to see this sign on the counter: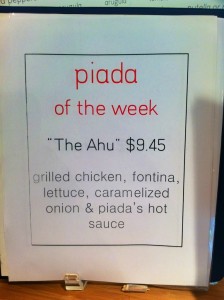 The Ahu at Piada
They seem to rotate the weekly specials every 3-4 weeks, get your 'Ahu' today!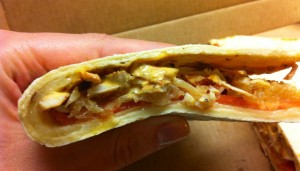 Piada's 'The Ahu'. Yes, I taste delicious!
Piada is also a bit of a gathering spot for all the attractive European folks from Citigroup Center and the vicinity and they have a nice flat screen and it's always turned to soccer or sports! They are a fantastic gem in this neighborhood and I look forward to seeing what delicious things they have brewing in the future!
—
Piada – feeding the hardworking folks in Midtown Manhattan and making foodie-dreams come true since 2009.
Piada
601 Lexington Ave at 53rd St, lower level
New York, NY 10022