As the days grow colder in NYC, I love making and eating soup. It's easy to whip up a ginormous pot on a Sunday (my favorite day to cook) and enjoy it for several days after. After getting my first immersion blender two weeks ago, I was eager to finally try it out this past weekend by making potato leek soup (yes, I'm a nerd. I get excited over such things). It's very simple, as most soups are, but blending it makes it look so much more… fancy shmancy.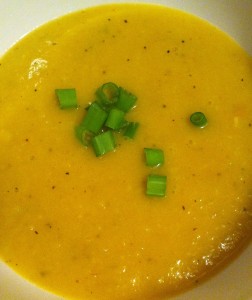 I don't like my food to be all one color… hence, the scallions.
It's basically just leeks, potatoes and onions cooked down in broth for about 30-45 minutes then blended with milk, salt and pepper. I also added red pepper flakes, because I like a little kick to my food. I would have squeezed in some lime juice as well had I had limes. Next time. I'm on day 3 of eating the soup and it's still delicious!
P.S. I feel like I should add that I literally ate the soup while writing this, as if that adds some sort of Inception-esque credibility to my post!