7/10 stars.
—
A hidden gem in the Financial District. Why it took 3 years and a friend who lives on the Upper West Side to get me to try Sandwich House… I have no idea. But I'm glad I did. A no-frills sandwich shop perfect for grabbing a sandwich to go (fine even to sit down with a friend for a low-key bite). What draws me back (3 times now) is the high-quality ingredients. They make the sandwich right there out the open and everything tastes fresh and wholesome. I was particularly impressed by the bread – both the whole wheat – full of chunks of hearty goodness and the perfectly crunchy baguette.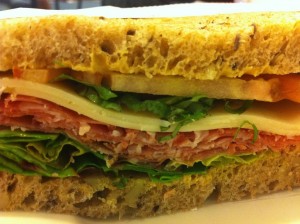 Mmm… Try to resist. Look at all the grains in the bread.
The #5 is by far my favorite sandwich; especially on the wheat bread. Just the right amount of peppery salami, gruyere, lettuce, tomatoes and the kicker: that beautifully spicy dijon mustard. The full size was not too big at all, and kept me full until my late dinner (which is quite a feat given that I usually eat every 2 hours). They have a nice selection of soups (the lentil is good and the chickpea looked nice) and seem to have an extensive salad and pasta menu, but let's face it, it's this everybody is here for: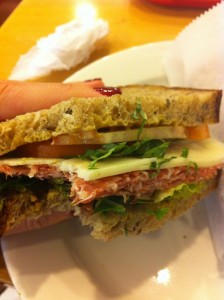 I couldn't resist…don't hate me.
I love that they don't pack the sandwich so full you can barely grip it – there is enough of each ingredient so that you can actually taste them all but not so much that you won't finish the sandwich. $9 ain't cheap for a sandwich but damnit, it's worth it.
—
Definitely worth a stop next time you're in the Financial District.
Sandwich House
17 Ann Street (pretty much behind J&R)
New York, NY
http://sandwichhousenyc.com