8/10 stars.
—
I'm a pretty healthy eater during the workweek. So healthy that the salad guy at the deli across from my office often makes my salad while I'm still crossing the street. But since Melt Shop opened up in my office building several months back, I've been really excited to try it as a break from the same ole' dreary soup-salad-soup-salad routine. After some initial logistical hiccups, I think the folks at this subterranean sandwich shop have figured it out (although curious to see how the crowds will do come winter).
They have all the ingredients of a trendy food establishment – cute packaging, a clear food 'niche', high-quality food in a casual setting, and an overall carefully-curated but not overly-styled brand. Basically, they picked one thing and are doing it very well – grilled cheese. They have a great selection of grilled cheese sandwiches – so much so that I had a tough time deciding what to order the first time I visited. I ended up trying the Smoked Turkey Ruben – which was delicious. It comes in a handy cardboard package which conveniently soaks up all the fat dripping off the sandwich.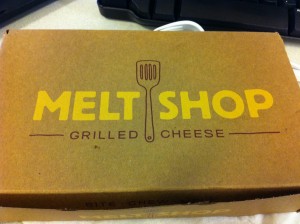 Sometimes food is not glam. It's just good.
I'll be a broken record and say I'm a sucker for simpler food that really showcases the ingredients and their quality.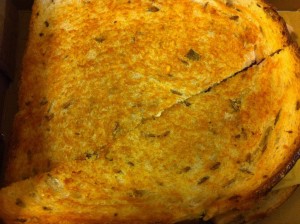 Look at all those delicious cumin seeds in the rye bread.
I won't go into gory detail about the sandwich, but I will say that it was excellent and that it contained one of my favorite things inside – coleslaw.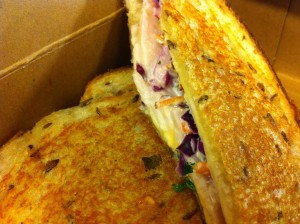 Mmmm. Just greasy enough.
The next time I came back I split the Fried Chicken with a friend (yes, unless you're a sumo wrestler you'll probably want to share a sandwich) – also as great as it sounds. These guys clearly do grilled cheese right. But what about those tots?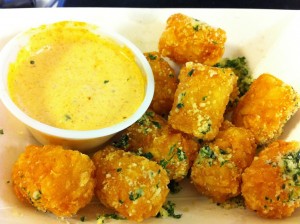 There's a Nancy Grace – Casey Anthony joke in here somewhere.
Who doesn't like tater tots!?! A bit on the crispy side, but so conveniently shaped that you really can't help but eat them. Now let's talk about Melt Shop's crowning glory: the coleslaw.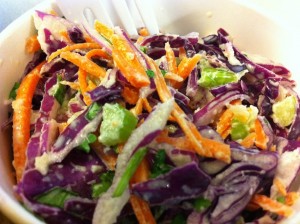 Thank you for being you.
It's not your traditional coleslaw, but that made it all the better. Made with red cabbage, carrots and celery, it's super crunchy and peppery. It has just a hint of dressing and is probably the healthiest dish on the menu. My only complaint – wish the side order of slaw was larger! Yum.
—
Melt Shop is a great addition to the culinary desert of midtown. They serve Stumptown coffee for all you fanatics, and I've heard raves about the homemade ice cream sandwiches. Go!
Melt Shop
601 Lexington Avenue (in the plaza, down the stairs)
New York, NY
http://www.meltshopnyc.com/